Catalogs.com Departments

News & Articles

Kids Storage Furniture - Stacks and Stacks
Kids storage furniture for fun organizing options
Using kids storage furniture throughout your home keeps it organized and keeps toys, books, games and more easily accessible.


Make it easy to organize - Forget frantic mornings searching for that lost book or homework. With kid-sized desks, bookshelves and storage boxes, your children can learn to clean up and keep things tidy, making it that much easier to find those important items when you're running out the door.... read more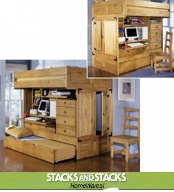 More About Kids Storage Furniture - Stacks and Stacks:
Other great Stacks and Stacks departments:
Keep track of clothes and toys - Kids storage furniture includes storage beds and dressers. Stow toys and clothing in drawers that conveniently slide under beds or use traditional dresser drawers in a number of styles, suitable for girls and boys of all ages.
Whimsical designs perfect for kids - Storage poles and coat racks that feature fire truck or train designs, safari adventures and blooming gardens match children's sense of whimsy, making organizing fun.
Kids love to feel grown up - Help them feel like big kids with kids storage furniture options like five-day shelf organizers and easy-to-reach baskets. Put organizing at their fingertips!
Shop Stacks and Stacks for unique and traditional kids storage furniture.