Bedding for College Dorms - CampusBedding.com
Bedding for college dorms is affordable and practical for kids
You want your child to be comfortable in his college dorm, so choose room furnishings with care. For attractive linens that will match any decor, shop for bedding for college dorms from CampusBedding.com, where you're guaranteed a perfect fit!


Suitable for boys and girls, you'll find a great range of colors in these soft and comfy linens, including crimson, hunter green, pink, navy blue, yellow, classic blue, white and mocha.... read more


This catalog is currently out of stock.


Please search through our categories for another catalog.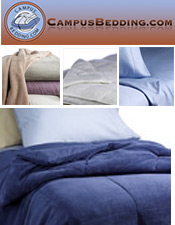 More About Bedding for College Dorms - CampusBedding.com:
Other great CampusBedding.com departments:
Sheets are elasticized all the way around the edges, not just on corners, for a snug and secure fit! Bedding for college dorms should be affordable, comfortable and able to withstand college life. You'll find all that and more in these attractive linens.


Experience the guarantee offered here. All of these attractive and comfortable products are designed to fit college and university twin size extra-long mattresses. Besides 300 thread count 100% cotton sheets, you have your choice of pillowcases, down or down-free comforters, mattress pads, featherbeds and pillows. Get all of the bedding for college dorms you need in one place!
Sending your child off to college can be an emotional experience, but knowing they're sleeping in the soft comfort of bedding for college dorms can ease your mind!