Catalogs.com Departments

News & Articles

Christmas Recipe Books - Gooseberry Patch
Create new traditions with Christmas recipe books
It's the most wonderful time of the year to eat! If you're one of millions of American families who sits down at the table during Christmas to partake in some of your favorite, old time family recipes, there's a chance that some of those recipes started in a cookbook!


Whether you want to learn how to create your mom's famous stuffing or your grandmother's moist pound cake, you can find the perfect holiday recipe in any one of these easy to follow Christmas recipe books.


... read more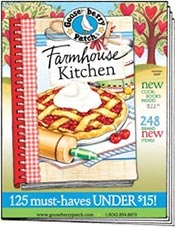 More About Christmas Recipe Books - Gooseberry Patch:
Other great Gooseberry Patch departments:
Starting new holiday traditions can be fun and nerve wracking, so if you're planning your very own holiday dinner for the first time, Christmas recipe books can help guide you through the seasonal culinary mine field.
Whether you need fun and delicious hors d'oeuvres or a full four course meal, you can find everything you need in these awesome Christmas recipe books. Create a wonderful meal that your friends and family will love so much, they'll ask you to make them at future events!
Don't settle for bland, store bought dishes! Create something truly unique and delicious this holiday season with Christmas recipe books that will train you to become the culinary goddess you've always wanted to be!