Catalogs.com Departments

News & Articles

Hanging Closet Organizers - Stacks and Stacks
Clean up your cluttered closet with hanging closet organizers
Are you having a tough time finding things in the sea of clothes and shoes that cover your closet floor? Hanging closet organizers offer a quick and easy storage solution for any disaster zone!


Hanging closet organizers such as garment racks can make it easier for you to organize and store your shirts, dresses and pants! The floor is no place for your clothes! Garment racks can help you keep your closet looking clean and in order! Browse convenient hanging closet organizers today!


... read more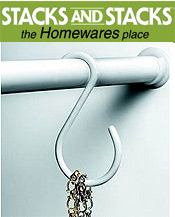 More About Hanging Closet Organizers - Stacks and Stacks:
Other great Stacks and Stacks departments:
Do you have so many clothes that you're constantly running out of hangers? Is your closet filled with a mismatched array of hangers? Your closet will look neater with high quality matching hangers. Choose from wooden, padded, plastic and metal hangers! If you need a place to hang your ties or belts, purchase a convenient, space saving accessory hanger! Find matching hanging closet organizers now!
Are your shoes in a jumbled pile on the floor? Make finding the right set of loafers easy with a hanging shoe organizer! Whether you're a shoe obsessed girl or a sneaker wearing guy, you won't have to worry about misplacing or mismatching your shoes ever again! Turn your closet into an organized paradise with hanging closet organizers.