Catalogs.com Departments

News & Articles

Homestyle Cookbook - Gooseberry Patch
A homestyle cookbook can help you create delicious goodies
Do you wish you knew how to whip up creamy macaroni and cheese or a hearty meatloaf? With an easy to follow homestyle cookbook, itís now possible for you to be able to cook some of your favorite comfort foods.


From cooking whole chickens to chicken pot pie, a homestyle cookbook from Gooseberry Patch can help you become your familyís next culinary queen.... read more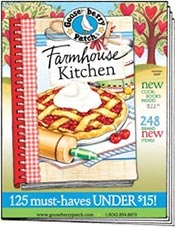 More About Homestyle Cookbook - Gooseberry Patch:
Other great Gooseberry Patch departments:
Itís true, no one can bake like your grandma, grill like your daddy or fry like your momma, but with the proper homestyle cookbook, you sure can come close!


Recipes are a sacred family tradition that is lovingly passed down from one generation to the next. Start your very own family tradition with delicious recipes found in a homestyle cookbook. Whether youíre hosting a holiday dinner or you donít want to show up empty handed to a potluck, youíll be able to find the perfect, creative dish in a fun, homestyle cookbook.
Whether youíre an amateur cook who barely knows how to boil water or youíre a gourmet expert, a homestyle cookbook can allow you to create traditional comfort food dishes that are sure to remind you of your days in mamaís kitchen. Start your own family food traditions now.