Catalogs.com Departments

News & Articles

Laundry Room Ideas - Stacks and Stacks
Laundry room ideas for a neat and organized laundry room
Get inspired to organize your laundry room with a variety of laundry room ideas designed to make your life easier.


Save space - For a clutter-free laundry room, rely on laundry room ideas like wall-mounted clothes valets or hooks, over-the-door garment racks or mop and broom hooks. Keep clothes and cleaning items out of your way, making your laundry room more spacious.... read more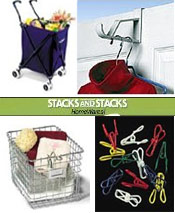 More About Laundry Room Ideas - Stacks and Stacks:
Other great Stacks and Stacks departments:
Organize with laundry room ideas - Plastic and wire baskets make clean up a snap or are useful for toting clothes and other items. Place them on shelves when not in use to keep them out of the way.
Laundry accessories simplify your life - You don't realize how useful clips and clothespins can be until you can't find any. Store them in cotton or canvas clothespin bags when not in use.
Turn your laundry room into a neat space with laundry room ideas from Stacks and Stacks. You might never mind doing the laundry again.