Catalogs.com Departments

News & Articles

Lined Storage Baskets – Space Savers
Lined storage baskets are ideal for storage and decoration
Not only are lined storage baskets functional, but they're also visually appealing. There are so many uses for storage baskets, you're sure to find something to store to keep your home organized.


Do you want to remove clutter and free up some much needed space in your rooms? If so, then lined storage baskets are perfect for storing, stashing and getting rid of the "extras" you find littering the floors, stuffed in closets, and stashed under beds.... read more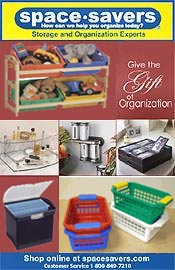 More About Lined Storage Baskets – Space Savers:
Other great Space Savers departments:
Remove the mess and have peace of mind when clutter is no longer an issue.


The versatility of lined storage baskets are endless. When they're not used for organizing needs, they can be used as decorative pieces to display dried flowers, your favorite table linens or fine cutlery during special occasions.
When not in use, lined storage baskets can easily stack together for simple storage. Plus, if your liners ever get soiled, you can remove and wash the inside liners and restore them back to their original beauty.
Lined storage baskets are made from a variety of materials including natural wicker, beautiful banana leaf and a recycled paper and rope blend. From light-colored wicker to bolder, darker shades, these baskets complement any home décor.