The Best Free Senior Living Catalogs to Order and Shop at Catalogs.com
By Catalogs Editorial Staff
From accessibility product catalogs to clothing catalogs and hobby catalogs, we have you covered.
Below is a list of the best free senior living catalogs. Seniors today are often busier than ever with jobs, volunteer work, and leisure-time activities. Some retired seniors whiz around at such a fast pace, they wonder how they ever had time for a job while other seniors enjoy keeping part-time employment to provide income, social interaction, and mental stimulation. Luckily, there are a number of essential products for seniors that make any type of work or play easier and more enjoyable. Nowadays, seniors can download and shop from specialty catalogs online to shop conveniently from home. Whether you want to shop for clothing, shoes, travel, wellness products, independent living aids catalogs, or senior travel catalogs, Catalogs.com has you covered.
We hope you love the catalogs we recommend! They were independently selected by our editors. Just so you know, Catalogs.com sometimes collects a share of sales and/or other compensation from the links on this page. Also, shipping times can vary depending on where you live, which product you purchase, and more. Be sure to browse through our different catalogs and enjoy exclusive deals and promotions to make the most of your shopping. Check out these senior living catalogs below to learn more.
---
1. Feel Good Store is one of the most popular senior living catalogs.
The Feel Good Store is a great free senior living catalog that wants you to look and feel your best with an extensive variety of health and wellness products that make senior living easier. You will be amazed about how affordable and competitive their prices are. Plus, they always have sales and tons of fantastic deals through coupons. As a bonus, you can
Get FREE Shipping on orders over $30
at Catalogs.com.
Customer Reviews:
Bev- Verified Buyer
May 3, 2021
Quick and Easy. Very clear description and photo. Very easy to order
Before you continue reading about the The Best Free Senior Living Catalogs to Order and Shop at Catalogs.com there is a special announcement we would like to share with you. Catalogs.com has negotiated special medicare rates for our vibrant community of seniors. If you are over the age of 60, you can head over to our Seniors Health Section which is full of information about medicare. All you need is your zip code and a few minutes of your time to potentially save 100s of dollars on your medicare bills.
---
2. Relax The Back Wellness Catalog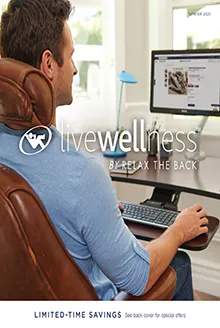 Need ergonomic furniture and accessories? Back pain? Relax the Back has your back covered. They provide serious solutions to those seeking relief and the prevention of back and neck pain. From ergonomic office chairs to cushions and massagers, you'll find cutting-edge products to get your back feeling back to normal.
Save $500 on a perfect chair
by browsing through the new Summer Catalog featured at Catalogs.com.
Customer Reviews:
Jordan T- Verified Buyer
March 9, 2021
The service and support I received while making my purchase were outstanding and helped me to select the proper size and features best suited for me. I highly recommend this company for all of your purchases. They know their products and are able to match them to the clients' needs which really helps. They only carry superior quality products and the owners are friendly and salespeople are knowledgeable. The delivery is quick and service people know the products so installation is done properly. Thank you I love my chair!
---
3. Dr. Leonard's senior living catalog is a favorite for accessibility products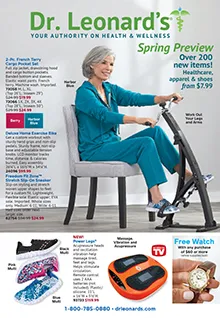 Dr. Leonard's is another great free senior living catalog that features the newest, high-quality wellness products, personal care items, support, and mobility aids. Since 1980, Dr. Leonard's Catalog has been committed to keeping all people, but especially seniors, healthy, independent, and moving with the newest products at affordable rates.
Enjoy Up To 80% OFF Clearance
when you visit Dr. Leonard's featured at Catalogs.com.
Customer Reviews:
Gerry- Verified Buyer
May 4, 2021
I saw your magazine from a friend. and decided to check to see if I would be able to see what I would have wanted if anything to purchase. I was fascinated from the first page. In my excitement, I felt as if I was a regular customer. I am limited on funds and I spend my money wisely. I just couldn't pass this opportunity up. They had just what I needed. Not only were they what I needed, but they were so cute. I would recommend this company to friends and family.
---
4. Healthy Living Senior Health and Wellness Catalog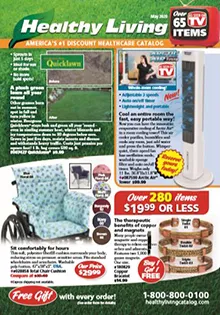 Maintain and improve health with Healthy Living, another of our top choice senior living catalogs. Healthy Living is a leading source for a wide range of health care products, housewares, and more items to promote wellness and a generally healthy lifestyle. The Healthy Living catalog has served countless customers and specializes in providing seniors quality health care products at affordable prices. For discounted offers and promotions check the healthy living catalog website. Bonus, you can
Get FREE Shipping on orders over $30 at Catalogs.com.
---
5. Silvert's Health and Wellness Catalog
Be well dressed and confident even when disability or age-related challenges make ordinary clothing difficult to put on and wear. Silvert's attractive line of adaptive clothing and disability products makes looking good simpler than ever. From easy-to-change open-back tops, shirts, jackets, dresses, and nightwear, to adaptive clothing for wheelchair users, each garment has been carefully selected to ensure maximum comfort, ease of use, and style. Bonus, you can
Get FREE Shipping on orders over $30 at Catalogs.com.
Customer Reviews:
Joyous Dove- Verified Buyer
September 08, 2020
Fabric content is very important to my choice of a garment. Comfort, durability and washability are all things to consider for the comfort of a garment. It would be appreciated to have garments with a higher percentage of Cotton. Listing a product as "Cotton", but then showing content as Polyester/Cotton, is not exactly a "Cotton" garment.
---
6. Eyeconic Eyeglasses Catalog
Eyewear is essential for most seniors which is why we chose Warby Parker as a great senior living catalog. Warby Parker gives you stylish choices and the convenience of shopping at home. You can't go wrong with their Try 5 frames at home for free! Just pick out your favorite 5, and they send you a kit to try them on at home. Explore the latest women's and men's glasses and get great
deals on Warby Parker at Catalogs.com.
---
7. Caldera + Lab Mens Skincare Catalog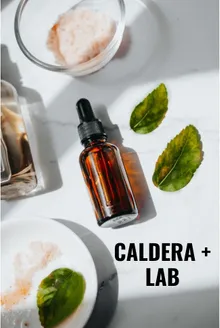 Caldera + Lab offers men a one-step regimen, designed to tighten, brighten and smooth your complexion. They offer a serum and are releasing a skincare product line for men that is acclaimed for its natural ingredients and antiaging properties. Shop at Catalogs.com and get the bonus,
Special Offer – Get 20% Off
when you purchase their product today.
Customer Reviews:
Jackson Hole- Verified Buyer
Why We Like Them
Caldera + Lab's anti-aging skin serum "The Good" is a clean, non-toxic, multi-functional skincare product formulated with 27 wild-harvested, all-natural ingredients and has been clinically proven to be excellent for all skin types.
---
8. Aging Resources Free Senior Living Catalog
What if someone you love has been diagnosed with mild cognitive impairment or dementia, what can you do? Well, Aging Resources offers a complete mental workout library for Seniors including exercises, worksheets, reading activities, DVDs, and other tools to improve the mental health of your aging parent, loved one, or patient. To request their latest,
FREE Catalog, visit Catalogs.com.
---
9. Carol Wright Clothing and Shoe Catalog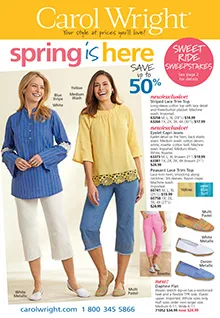 Carol Wright Free Catalog provides the best selection of apparel, shoes, and home décor that is comfortable, colorful, and stylish! Shop Carol Wright for a wide assortment of dresses; tops, tanks, and t-shirts; pants, skirts, and shorts; coats and jackets; pajamas and nightgowns; bras and intimate apparel; plus size apparel; shoes, and much more.
Bonus, catalogs.com also offers a coupon code to Get FREE Shipping on Orders Over $30.
Customer Reviews:
Suebee- Verified Buyer
May 04, 2021
The CW catalog came, and I found several things I wanted, but I never ordered online with CW before. I was going to fill out the order form and send it in, but I laid the catalog down and a week went by and I'd forgotten. Then I say the catalog and thought I'd better order while the items were still available. So I went on-line and found the website very user friendly. It was fast, easy and convenient. I will use it again and I also signed up and got 15% off to get notified of special offers. I find the CW items to be better quality than some discount sites, now, I signed up and will be a more active customer. TY.
---
10. Complements Free Senior Living Shoe Catalog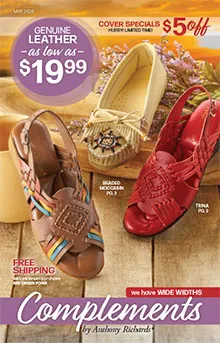 Our "best of " list of senior living catalogs would not be complete without Complements. Specializing in comfortable, affordable, and stylish shoes, Complements Shoe Catalog offers a wide variety of women's shoes. From sandals, boots, athletic wear to slippers you will find a large selection of affordable shoes for women. Get the best deals and items from Complements and enjoy a bonus offer of
FREE Shipping on orders over $30
when you shop at Catalogs.com.
---
11. Time For Me Clothing Catalog
Made for the woman that is always taking care of others, the Time For Me Catalog offers women everything from skincare, personal care, beauty and lifestyle to nutritional and exercise products. Their products allow you to relax, feel and look better! Bonus, catalogs.com also offers
FREE shipping on orders over $30.
---
12. RailRiders Clothing Catalog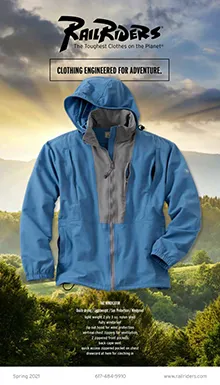 If you are active and you want to shop for the most amazing fitness apparel and accessories, try RailRiders and it will give you the best solutions to your outdoor activities. RailRiders Catalog offers stylish performance clothing for women and men engineered for adventure with lightweight, quick-dry, and UPF fabrics.
Order your FREE Digital Catalog
at Catalogs.com.
---
---
13. Lori's Golf Shoppe Catalog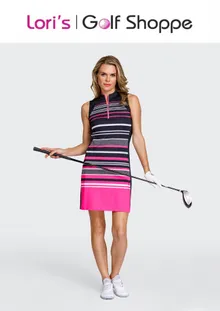 Lori's Golf Shoppe wants you to look great while shooting a great round of golf! Grab the sport golf apparel, ladies golf bags, ladies golf clothing, and other ladies golf accessory items for senior ladies that enjoy golf as a hobby in their active lifestyle. Lori's Golf Shoppe is the place for your golfing needs. Bonus offer
Get 15% OFF plus FREE Shipping $75+
at Catalogs.com
---
14. Herrschners Crafts Catalog
Herrschners is very well known for their craft supplies, so, for your crafts and leisure needs, we chose the Herrschners catalog featured at Catalogs.com Whether you love to crochet and knit, or if needlework, painting, embroidery, are your passions, Herrschners yarns, arts, and craft store carries a wide variety of materials for your crafting needs. Get
10% OFF on your entire order
when you visit Catalogs.com.
Popular Savings Offers
---
15. Collette Vacation Catalogs
Last but not least, it's time for some vacations. The Collette Vacation Catalogs offer a wide variety of destinations from
Europe
to the
US and Canada
and specialize in tours for the 55+ crowd. Visit the most popular travel destinations in the world featured at Catalogs.com. Sign up to be the first to hear about Discounts, Deals, and Free Shipping Offers.