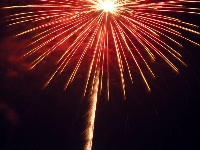 Create 4th of July recipes for your party that guests will remember
Great tasting and creative food is a big hit at any holiday celebration, and the 4th of July is no exception. Independence Day is a holiday that is best known for partying and celebrating with good food and friends. Itfs a lot of fun making dishes and recipes that your guests will enjoy and look forward to.
When you create those 4th of July recipes for your party guests, give them something theyfre bound to remember and talk about for more celebrations to come.
~
Traditionally-served 4th of July recipes include:
Barbequed ribs and grilled hotdogs, hamburgers and steaks
Baked Beans
Potato Salad or Tossed Salad
Watermelon
Lemon-meringue pie
Sangria punch


Take it Up a Notch!
With a twist on the traditional menu, and a bit of added excitement, try one or two of the following dishes for your next feast and see if these new 4th of July recipes gain a nod or two!
Barbequed Salmon: Grilling fish is a twist at a holiday that typically finds beef or pork on the coals. Any kind of thick seafood would do exceptionally well on the grill and is less likely to break apart when cooking it. To ensure that your fish stays intact, use a fish cooker or cooking twine to hold it together.
What you will need:
Fresh salmon steaks or fillets
Sea salt and coarse ground black pepper
3/4 c. of butter
2 minced garlic cloves 
1 1/2 tbsp. of dry mustard
1 1/2 tbsp. soy sauce
1/3 c. of dry sherry
3 tbsp. ketchup
To do:
Rinse and pat dry the salmon. Pre-season it lightly with sea salt and coarse black pepper about 10-15 minutes before you begin cooking. 
Combine the butter, garlic cloves, dry mustard, soy sauce, sherry and ketchup in a pan. Stir the mixture over medium heat until the butter melts.
Spray the grill grates before heating so that the fish doesn't stick. Preheat the grill for 5 minutes.
Place the salmon, skin side down first, on the hot grill. After approximately 4-6 minutes of cooking, turn once. 
When itfs done, brush on your favorite barbeque sauce. Chipotle sauce gives the salmon a very distinct, flavorful taste. Serve the salmon with grilled white potatoes or grilled sweet potatoes and watch them fly (or swim) off the plates!
Hot Dogs: Instead of regular hotdogs, serve polish hot dogs, sausages or Bratwurst dogs. 
What you will need:
3 lbs. of Polish, Italian or Beef Kielbasa dogs
2 tbsp. canola oil
3 lbs. onions
3 lbs. red, yellow and green bell peppers
To do:
Pre-cook the sausages by boiling them in water for 10-12 minutes
Lightly season with coarse black pepper. 
Pre-heat the pre-oiled grill for 5 minutes
Grill the hot dogs for about 10-12 minutes each until no pink color remains
Turn the sausages once, no more than twice, to get the grill marks on the meat. 
Saute the onions and peppers with the oil in a hot skillet
Serve on warmed hoagie hot dog buns 
Hamburgers: Regular grilled hamburgers can be mixed with ground turkey, ground chuck and ground sirloin to make a tastefully delicious burger. 
What you need:
1/2 lb. ground sirloin
1/2 lb. ground turkey
1/2 lb. ground chuck
Slices of pineapple
Salt and pepper to taste
To do:
Pre-form and season the patties the night before the party
Place the patties over Pre-warm the grill for 5 minutes
Place the patties on the grill, turning them only once while cooking. Frequent turning will cause the hamburgers to dry. 
After turning, add a slice of pineapple
Remove the burgers from the grill. Let the guests add their own desired additional toppings.
These Hawaiian-style burgers add unbelievable flavor to the traditional hamburger. Warm the buns on the grill as well and serve with lettuce, cheese, tomatoes, onions and any other additional toppings. For a complete grilled flavor, place thick slices of tomatoes and onions on the grill and remove them after the grill marks show, about 2-3 minutes.
Fruit Kabobs: For that picnic feeling, take your watermelon, add more fruit and make fruit kabobs for your guests. For something different and for even more flavorful fruit, place thick pineapple slices, red and green apples and watermelon on the grill briefly to get grill marks before adding them to your kabob. The mixture of warm and cold sweet fruit will impress your guests.
Make the kabobs well ahead of time and sprinkle them lightly with lemon juice to retard browning. Store the fruit kabobs in the refrigerator to set; dust them lightly with powdered sugar before serving to enhance their natural flavors. 
What you will need:
Wooden skewers
5 medium red apples cut into chunks
5 medium Bartlett pears cut into chunks
21 unsweetened pineapple chunks
21 seedless red or green grapes
21 capped fresh strawberries
1 1/2 c. vanilla low-fat yogurt
1 1/2 tbsp. flaked coconut
1 1/2 tbsp. orange marmalade
To do:
Cut and assemble all fruit into individual bowls or containers
Add lemon juice and lightly toss
Alternating with pieces of fruit, string them onto the wooden skewer
To make the coconut dressing:
Combine the yogurt, coconut and the marmalade in a small bowl
Stir well
Drizzle over the kabobs
Fun Punch: Enhance your regular Sangria punch with the fruit kabobs that you made, or use slices of lemons and oranges for additional flavor and smiles. Your Sangria punch can be served in a traditional punch bowl or in a small tub for more of a party experience. For guests who do not consume alcohol, eliminate the wine and increase the seltzer for extra flavor but not extra sweetness. Be sure to make a lot of this punch because it does go fast at parties.
What you need:
2 lemons
2 limes
4 oranges
4 apples
1 large container of strawberries
1 bottle of red wine
2 cups of soda water
To do:
Wash and slice lemons, limes, oranges and apples very thin. Do not remove the peeling.
Place them into the pitcher or the bowl. Add the strawberries.
Pour in the wine so that it covers the fruit
Add soda water
Cover and refrigerate for about 4 hours to chill.
Colorful Desert: Red, White and Blue Cake
Serve your guests the regular 4th of July red, white and blue cake – – but in champagne glasses. Slice the cake into portions, put them in champagne glasses and pour champagne over the cake, but only about halfway so as not to completely wet the cake.
The icing will turn the champagne different colors and your guests will have fun eatingcand drinking, their dessert. For your guests who do not consume alcohol, pour sprite drink or seltzer over their cake for the same visual experience and comparable taste.
What you need:
1 c. flour
1 c. sugar
1 c. milk
1 egg
1 tbsp. vegetable oil
Cake topping:
1 c. strawberries, blueberries and/or mulberries
2 tbsp. sugar
Cola
Cool Whip
To do:
Preheat the oven to 350 degrees
Combine the berries, sugar and a splash of cola. Allow this mixture to chill in the refrigerator while the cake is cooking
Combine the flour, sugar, milk, egg and oil. Mix and beat well together.
Transfer the mixture to a cake pan. Bake for 30 minutes or until the to is brown.
Let the cake cool and top it with Cool Whip. 
Drain the juice berry mixture and spoon the berries on top.
Refrigerate the cake for about an hour before serving.
With a little creativity, your 4th of July recipes donft have to be traditional or boring. Incorporate new ideas and new twists into old recipes, giving them flair and pizzazz.