Which accessories to buy for your vinyl collection
By Catalogs Editorial Staff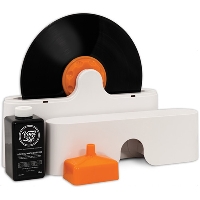 Keep your vinyl record collection clean and safe with these accessories
Accessories for a vinyl collection aim to keep records clean and protected. Vinyl records are fragile and often expensive, especially with the rarer discs. Do what you can to make the old sound good and the new sound great.

Getting the brush off
A brush is your first line of defense against dust. Vinyl Styl calls theirs a Micro Fiber Anti Static Record Cleaning Brush. (Because they couldn't think of a longer name.) This accessory will pull dust off your records with just a few swipes. No liquid needed.
Liquid asset
Before you continue reading about the Which accessories to buy for your vinyl collection there is a special announcement we would like to share with you. Catalogs.com has negotiated special medicare rates for our vibrant community of seniors. If you are over the age of 60, you can head over to our Seniors Health Section which is full of information about medicare. All you need is your zip code and a few minutes of your time to potentially save 100s of dollars on your medicare bills.
Would you prefer something wet? Bottled record cleaning fluid will do the trick. Don?t guess what your records need. Get a product made for the job.
Your turntable's BFF
A 12″ antistatic cork turntable mat is another vital vinyl accessory. Fighting static means fighting dust. Vinyl Styl's retro-looking cork mat is no slip ? built to aid sound quality and to reduce vibrations. Recessed for record labels.
A gift that keeps on giving
Confused about what to give your vinyl record collecting friend? Do they want a Social Distortion album or one from Tom Petty? How about neither? Calm your gifting nerves with a vinyl record care kit, containing a brush, fluid, a stylus cleaner and more. It will care for all their albums and you won't have to decide which individual items to get.
~
Working for the clampdown
Yes, that's a line from a Clash album, but it's also a true sentiment for a record clamp, an overlooked device that temporarily fixes the record to the turntable platter. You get better sound from reduced vibrations. As one manufacturer puts it, "A superior sonic experience."
A moist towelette for your records
Lubricated cleaning cloths are an alternative to brushes. You can get a single cloth or packs of more. Great for on-the-go.
Got you covered
Don't forget to wrap up your project. Poly sleeve outer record covers take great care of your discs. You can find them in 12″ size and others. They are usually 3 mil thick and in 50 or 100 count packs. Look for archival quality when buying. Brand new cardboard jackets are another good idea. Chipboard is commonly used, heavy duty cardboard which made up original album jackets for decades.

I don't mean to needle you but . . .
Always have a replacement needle and cartridge if you are traveling with your turntable. You'll never know when your present needle gets roughed up. Speaking of getting roughed up, you should consider some protective accessories for your record collection.
Going mobile
A padded carrying case is a sound idea. Much better than a bag to hold that Robert Johnson album you just scored in Reno. Vinyl Styl makes two kinds. The first is what they simply call a padded carrying case. The other is their buff looking "Groove Record" case which features sturdy metal hardware and a happening design. Something Jason Bourne would use to carry his Moby collection.
Deus ex machina
If you really want to keep your records clean, consider the Deep Groove Record Washer System. This awesome water based tech will definitely get your groove on. This system will deeply clean any record to make it sound as good as it can. Vinyl Styl?s machine cleans with a proprietary washer solution and, wait for it, goat hair brushes. How can you turn down goat hair? Comes complete with a clamp to protect the record label, a 45 RPM adapter, and plenty of washer fluid and attendant accessories. Washes and dries! Does 7″, 10″, and 12″ records.
To sum up, a fine vinyl record collection demands a good accessory collection. Keep adding to it as your albums increase. You'll find better sound is just a brush, wash, or carrying case away.

Popular Savings Offers