Choosing an affordable engagement ring
By Catalogs Editorial Staff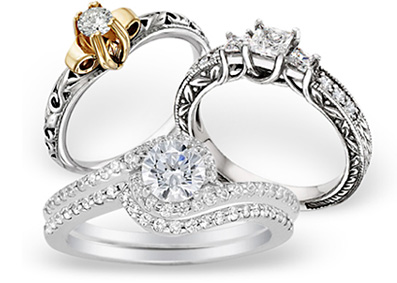 An affordable engagement ring fits your love … and your budget
So you're going to pop the question? That's amazing! It's a time of so many wonderful new experiences and so many choices to make. 
And one of the first choices you'll need to make is about the ring. You want a ring that will dazzle the woman you love. But at the same time you want an affordable engagement ring. The good news is you can have both!  Here are some tips for finding a ring you'll both love, at a price that won't hurt your budget. 
Stay away from the malls. Seriously! 
Before you continue reading about the Choosing an affordable engagement ring there is a special announcement we would like to share with you. Catalogs.com has negotiated special medicare rates for our vibrant community of seniors. If you are over the age of 60, you can head over to our Seniors Health Section which is full of information about medicare. All you need is your zip code and a few minutes of your time to potentially save 100s of dollars on your medicare bills.
Mall jewelry stores might seem like a great place to buy an engagement ring. After all, they're close by, everything can be seen, touched and tried on, and you can get a frozen yogurt in the food court afterwards.
But the fact is that behind those sparkling cases and carefully aimed lighting lies a secret. It's called mark-up. That means they're going to charge you between 100 and 500 percent more for a ring than you could buy it in an online jewelry store. Every ring they sell is paying the high mall rent for the store, the price of the fancy fixtures and those heartfelt ads on TV. And the lighting is designed to make even sub-par diamonds look amazing.
I would say it's a good place to go and look, but it can be so hard to resist what looks like the perfect ring right there on the velvet mat. So unless you have an iron will, skip the mall entirely.
~
Do your research on diamonds and engagement rings

If you understand the facts about diamonds and other gemstones, you'll be in a better position to get the best ring for your money. Learn about cut, clarity, size (carats), and color, so you'll know how to choose the best quality stone, instead of the one some saleperson wants to sell you. 
An engagement ring doesn't have to mean diamonds
There's no rule that says your engagement ring has to feature a diamond. If your budget is tight, or you just want a ring that is as unique as you two, spend some time looking at other precious and semi-precious stones. Garnets, with their deep red color make wonderful solitares, while sapphires, emeralds and rubies offer a dramatic look with small diamond accents, for a fraction of the price of a large diamond. 
Head to your computer
Online diamond merchants can typically offer diamonds, settings and gemstones for a far lower price that brick-and-mortar stores. But as with all kinds of businesses, not all online jewelry stores are created equal. 
Use common sense (if it sounds too good to be true, it is!), and check out the company's reputation with the Better Business Bureau. Talk to friends who have shopped for jewelry online, or turn to social media to find out what other people are saying about the company. 
Look at resale and estate jewelry
Do you want to find something affordable and still different from the mass-produced rings at the mall?  A vintage ring can offer a one-of-a-kind look, without the high price tag of custom designed rings. 
Resale rings are another option to close the gap between the ring of her dreams and the budget of every day reality. People sell engagement rings for all kinds of reasons, but they usually have one thing in common. They are selling them for less than they paid originally. Or at least, less than it would cost now. 
Before you buy a secondhand ring, do get it inspected and certified by a jeweler you trust. Make sure the cut, size, color and clarity are what you want … and what they promised. 
Love counts, size doesn't
Yeah, I know. Size counts sometimes. But this is really one of those times when it doesn't. Instead of going into debt, scale down the stone so you can actually afford it.
Don't worry about meeting some imaginary size requirements fed to us by advertisers. A smaller, better diamond makes for a more affordable engagement ring and is a better choice for the money than a larger, poor quality stone. 
Keep it in perspective
An engagement ring is a symbol of your love and your plans to spend the rest of your lives together. It's not supposed to make it harder to meet life's daily expenses. Keep that in mind, and shop with her in mind, and I promise it will work.
Popular Savings Offers