Getting the most out of after Christmas sales
By Catalogs Editorial Staff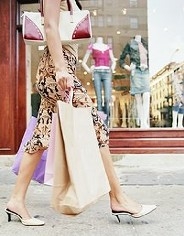 You can save a bundle by shopping sales the day after Christmas
The holiday shopping season begins after Halloween, and then ramps into overdrive on the Friday after Thanksgiving, otherwise known as "Black Friday." The shopping season doesn't end on Christmas day, however, and you can save a bundle on a huge variety of items at the after Christmas sales. It's also never too early to start looking for holiday gifts for next year.
Seasonal supplies
It's normal to spend money on gifts, but it's amazing how much it can cost to wrap the gifts ? especially if you're lazy like me, and prefer to use gift bags and tissue paper rather than old-fashioned wrapping paper. After Christmas, all of the holiday wrap, ribbons, gift bags, and gift tags are marked down drastically. They will continue to go down in price for the few weeks following Christmas, but the longer you wait, the more picked over the items will be.
Holiday decorations like wreaths, candles, artificial trees, lights, ornaments, and stockings will also all be marked down for clearance. This is a great time to stock up on decorations for future holiday seasons. Another great idea is to purchase "Baby's First Christmas" ornaments for any friends who are expecting a child in the upcoming year.
Craft supplies
If you're a crafter, the after Christmas sales can be a great way to stock up on your crafting supplies. Much of the red, green, gold, and silver yarns, ribbons, stickers, scrapbooking and card-making papers will have slashed prices. Plan your projects for next Christmas around the deals you find.
Seasonal apparel
If you have children, all of those adorable Christmas dresses and velveteen suits for babies, toddlers, and children will go on sale after the holiday. Buy at least a size larger, if not two, than they are currently wearing. They may not fit next year, but they will the year after, and you'll save money.
Winter accessories will also go on sale after Christmas so that the stores can make room for the spring and summer items that seem to magically appear right after New Year's Day. Mittens, gloves, stocking caps, scarves, and muffs make great gifts for next year, for both Christmas and people who have fall and winter birthdays.

~
Overstock items
You know all the commercials and print ads we see in the weeks leading up to Christmas, the ones advertising extremely cheap DVD players, home entertainment systems, stereo and computer equipment, and gaming systems? Retail stores often overstock these items and have many left over after the holiday. For your best chance at these larger-ticket items, be sure to be at the stores early the day after Christmas.

Seasonal food items
Chocolates, nuts, holiday desserts, and other food items that are packaged for Christmas will also be marked down for the after Christmas sales. The food isn't expired, but the packages need to be removed from the shelves. Many products that people buy for their kids, like cereal, breakfast items, and frozen food items, will have holiday packaging and the stores will often mark these items down as much as 50 percent.
Online after-Christmas sales
When you're looking for post-Christmas sales, don't forget online retailers. Many retailers offer more items on their web stores, and again, many of these items will be marked down after the holiday. If you're a book-lover like me, make sure to visit Barnes & Noble's online store. They mark down tons of books; last year I got some great deals the week after Christmas.
Make sure you prepare for your after Christmas shopping with some online research and comparison shopping. Check the fliers in your local paper for the bigger retailers like Wal-mart, Target, Circuit City, and Best Buy, because many of these stores will be offering the same or similar items, and you'll want to make sure you're getting the best possible deals. Shopping the after Christmas sales can be a wonderful way to stretch your dollar.

Popular Savings Offers
Before you continue reading about the Getting the most out of after Christmas sales there is a special announcement we would like to share with you. Catalogs.com has negotiated special medicare rates for our vibrant community of seniors. If you are over the age of 60, you can head over to our Seniors Health Section which is full of information about medicare. All you need is your zip code and a few minutes of your time to potentially save 100s of dollars on your medicare bills.