All about plastic bags
By Catalogs Editorial Staff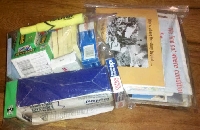 Learning all about plastic bags is adventure in both science and home economics
Plastic bags are a critical part of modern commerce, both for B2B use and consumer products.
Plastic packaging allows us to keep products dry and dust free, they reduce shipping costs over traditional cardboard packaging, and they help preserve perishable items longer. They even make it easier for shoppers to carry home their purchases, without worry about the weight from the bag itself.
 
But most people know very little about plastic bags, even if they use them every day in their business. They might even be using the wrong kind for their business. If you?re thinking about ordering new bags (or placing your very first order), you might not have thought a lot about your choices. But they?re more important than you might imagine.
Here?s a quick overview of what you need to know to choose the right bags for your company or shop.
Before you continue reading about the All about plastic bags there is a special announcement we would like to share with you. Catalogs.com has negotiated special medicare rates for our vibrant community of seniors. If you are over the age of 60, you can head over to our Seniors Health Section which is full of information about medicare. All you need is your zip code and a few minutes of your time to potentially save 100s of dollars on your medicare bills.
Types of plastics for bags
When it comes to plastics, there is no single definition. In general, plastics are any synthetic material which is made from one of many different organic polymers. But here are a few of the most common choices for plastic bags and packaging.
Polyethylene
One of the most common materials used for bags is polyethylene, a material derived from natural gas and petroleum. Colorless by nature, additional compounds are added to the mixture to create tinted bags, a common choice for grocery stores and discount stores. The material offers a low cost of manufacturing, and is currently the most popular choice for plastic films, wrappings and bottles as well as bags.
~
Polypropylene
Another popular type of plastic, polypropylene is the most common plastic of choice for items where overall durability, heat resistance and the ability to be molded into a shape is critical, such as medical devices, automotive parts and electrical components. 
The material is also a popular choice for clear, flexible packing on consumer goods, as processing allows it to become completely transparent. This material is less common for single-use shopping bags, although it is used in other disposable consumer goods such as diapers and retail display packaging.
Cellophane
Unlike the synthetically produced polypropylene and polyethylene, cellophane is produced by processing plant materials such as word, hemp or cotton to create sheets of flexible, transparent or translucent packaging material. The material offers an excellent barrier to bacteria, water, oils and other contaminants, making it a popular choice for food packaging.
Bioplastics
The newest entry into the plastics market, bioplastics are made from organic plant materials such as such as vegetable fats and oils, or corn or legume starches. Many of these processes result in bags and other packaging that can readily biodegrade after use. This form of plastic is growing in popularity as a material for shopping bags and other single use items.
The right size bag for the right product
No matter which material you select for your company?s packaging or bag needs, it?s critical to choose the right size bag.
Bag dimensions include height, width, capacity and thickness. Getting these factors correct will improve retailer, customer and user experience, while reducing breakage, waste and loss.
Choosing the wrong size bag (an all too common occurrence) might reduce product sales, repeat business or customer satisfaction down the road. Or it could increase spoilage and loss of product due to contamination or inability to reduce the in-package air-to-product ratio.
Consumer-facing business also need to consider average number of items purchased as well as item size. Nothing is more frustrating to a consumer than to be told the shop has no bags for their large items or that they have to take many small bags for multiple light-weight items. 
Thickness
A number of factors influence the ideal bag thickness choices for your business. For the consumer-facing business, bags which will be used with heavy products (such as canned goods, tools or auto parts) would generally need to be thicker than those used by a card shop, fast-food restaurant or pet store.
Business to business packaging or bags also need to address the weight factor. Shipping quantities of fasteners, machine parts or other heavy items in inadequate plastic packaging is a recipe for disaster. Make sure the weight of bagging you select can stand up to the rigors of shipping, storage and handling. No one wants to crawl around on their factory floor or parts shop picking up dozens of spilled bolts or screws.
In both consumer and business applications, thickness is also a factor if moisture is a concern. Wet or damp product such as fish, meat or even cut flowers would require a thicker plastic to ensure that the consumer doesn?t see seep-though, and other items aren?t contaminated.
Items that need to be kept dry, such as art supplies, books, medical supplies and certain chemicals will probably also necessitate a thicker bag choice, especially if your shop or facility is located in a damp climate.
Styles of plastic packaging and bags
The final factor in your plastic bag choice is the intended use. As with the materials themselves, there is no one-size-fits all. Some of the basic categories to consider include:
Packing and shipping
The right bags for storing things in your factory or using for on-site consumer purchases are probably not the right option for shipping or packaging.
Making sure your product or materials reach their destination undamaged and usable will require different choices depending on your product. If the items you ship are likely to be bent or dented in transit, a plasticized padded shipping envelope might keep items dry and safe. Gusseted bags (those with three dimensions instead of flat packaging), might be a good choice if you need to package items that variety in height, width or depth.  
Tube packaging allows you to securely send large documents, posters and other ?flats?, as well as pack a number of small items securely with less risk of shifting during shipping.
Specialty
Specialty bags are the right choice if you have a single use need, such as selling bagged ice, take-out food, bakery breads or if you need to cover clothing on hangers (such as at a dry cleaner, bridal shop or tailor.) In these instances, a business is probably better off selecting bags that have already been designed to meet those needs.
Custom printed
For a significant number of businesses, their plastic packaging and bags are a marketing tool for the company. Selecting bags in a certain color, and/or bags imprinted with your business name, a special event (such as a trade show) or a limited time promotion might be the best place to start your bag buying.
It?s in the bag!
No matter what kind of plastic bag needs your business has, odds are there are choices out there that will work to keep you ? and your customers ? happy. Just remember, when your product leaves your business, it?s all in the bag.  Make sure it?s the right one!
Popular Savings Offers