Alphabet art turns letters into creative project
By Catalogs Editorial Staff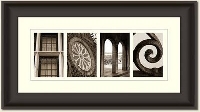 Alphabet Photography: Create a Personalized Name, Word or Meaningful Phrase
Inspirational photo collages have gained popularity as wall art and home decor objects. Alphabet pictures, also known as alphabet photography, alphabet art,
letter art or word art
, have become a trendy and creative gift idea. If you are searching for personalized gifts for family, friends or loved ones, consider purchasing a series of alphabet pictures, or creating your own art project with letters.
How exactly do you frame your name with alphabet photography? Art projects with letters are the art of taking photographs of natural or man-made objects that resemble letters, and then combining a series of these letter photos to compose a word, name, or meaningful phrase.  
For example, an aerial photograph capturing the meandering curve of a river might serve as the letter S. A bicycle tire could portray the letter O. An architectural arch in the doorway of a historic building might resemble the letter N. Put these three photographs side by side, and they spell the word SON. What a perfect, personalized gift to present to your son for his birthday, or hang on the wall of your child's bedroom.  
Before you continue reading about the Alphabet art turns letters into creative project there is a special announcement we would like to share with you. Catalogs.com has negotiated special medicare rates for our vibrant community of seniors. If you are over the age of 60, you can head over to our Seniors Health Section which is full of information about medicare. All you need is your zip code and a few minutes of your time to potentially save 100s of dollars on your medicare bills.
These alphabet art photographs will be all the more meaningful if you have taken them yourself, seeking out places, locations or objects that are uniquely and personally meaningful to your son. Perhaps the letter O is the tire of your son's first bicycle. Perhaps the letter S is a photograph of the river where he learned to swim. Perhaps the N is the arch in the doorway of your family home. There is simply no limit to the creative and truly personalized art projects with letters that you can create if you let your intuition guide you.
Many decor companies, art stores and photography studios sell photographs of letters that can be selected and ordered in a personalized arrangement, word or name. Order a name or word that is meaningful to you. With purchased alphabet photography as your inspiration, and with just a little planning time, and photographic skill, you can add to collection with your very own alphabet pictures using your own photography and creative talent.
~
Tips for Creating Your Own, Personalized, Alphabet Art Projects With Letters:
1.   Begin by selecting a name, word or phrase that you wish to spell out with letters. Are you looking for a mother's day gift for mom? Spell out the word MOTHER with word art. Need a unique baby shower gift? Spell the name of the new baby with word art, or if the child's name is still undecided, spell out the word FAMILY. Whatever word or name you choose to spell, make sure it reflects a personal statement.
2.   Carry a camera with you! Tuck your digital camera into your purse, briefcase or knapsack, and take it with you during the day so that you will be ready to capture any letters that emerge during your daily routine or travels. Bring your camera to work, to the park, to school, on the subway, etc. Take the time to notice the details in the world around you ? architectural details such as iron scroll work, natural beauty such as the curve of a vine, and geometric shapes found on a picnic bench, a child's swing set or a street light.  
3.   When you find an object that resembles a letter contained in your key word or phrase, be sure to capture it from a number of different angles using your camera. You can always narrow your choices down later. When working on art projects with letters, it is better to have too many images to choose from than too few.
4.   Once you have captured appealing and artistic images of objects that resemble letters, its time to print your photos. Online photo sites such as snapfish.com offer competitive prices for printing photos from digital images. Or, simply order prints from your local photo lab. Prior to ordering prints, its important to have a clear idea as to what size you wish to print your photos, and whether you want them printed in color or black and white.
5.   Selecting framing is one of the most important details for completing your alphabet art photo project. Coordinate your photo frames and home decor. Depending on the length of the word, name or phrase, you may wish to select four, five or six identical frames, or you may opt for one large frame that contains a number of photo holders.  
 
Ultimately, art projects with letters will make absolutely unique and creative housewarming gifts, baby shower gifts, birthday gifts, wedding gifts, holiday gifts or thank you gifts.  These literary works of art, when presented as a whole, ready for hanging or display, are sure to become cherished household items.
References:
DIY Alphabet Photography Art
The Photography Blog
Popular Savings Offers