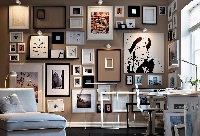 Selecting art by size for the dimensions and layout of your room
You have just moved into a new home or apartment. The wall space is vast and glaringly empty. How in the world does one go about choosing the right art pieces for a particular space? Select art by size for your room by considering dimensions and configuration of wall space.
Some people can simply eyeball a space and instinctively know where to place paintings or photos and what sizes they should be in correlation with the space available whereas others need more help making this decision.
If the wall space is large, the pieces you choose to display shouldn't be too small or they will be lost. Your room may be able to accommodate one over-size work of art, or multiple medium size pieces. On the other hand, if a wall is small it can not effectively accommodate a huge canvas. Things will appear out of balance and off-kilter.
Ideally, you already have an idea of what kind of artwork you like and are drawn to. You probably know what styles and color preferences are your favorites. Stick with what you like, concentrating on the right size for the space you are decorating.~
You may prefer using photographs, which qualify as artwork, rather than paintings, or you can use them both. When matted and framed, photographs make a powerful statement in an interior, particularly when clustered together in a bold arrangement, which can be asymmetrical or symmetrical. Remember that matting and framing make a piece of art larger.
The goal is to show off the artwork to its best advantage. It also needs to complement the existing items in a particular room and not work against them. For example, if you have very traditional furnishings a modern painting might not work well in this room. It could be a distraction or outright clash with the style and furnishings in the space. On the other hand, it may work beautifully. Put it on the wall and see if it works. You never know until you try.
Rules to remember
Sit down in the middle of the room and observe the space. Measure how big the room is. How high are the ceilings? Where is the furniture placed? How much wall space is available?
When filling an entire wall with art, cover 2/3rds to 3/4ths of the wall, leaving some empty space. A multitude of painting and pictures or a mixture thereof on a wall can be stunning but if done incorrectly it appears cluttered, sloppy and off-putting.
When hanging a painting, it should be placed at eye level although this rule doesn't apply if you are doing an entire wall in artwork. Obviously, some of the items will be above eye level and others below. Keep in mind sight line. It is the space 60 inches off the floor to the center of the piece or center of the arrangement. This is where most people's eyes go.
If you want to hang a piece over your sofa, it should be approximately two-thirds the size of the couch. The piece should be hung one hand width above the sofa.
When placing a grouping of art over a piece of furniture ideally the group is not wider than the furniture itself. If it is, the outcome is a top-heavy look.
When items are grouped on a wall, keep the heavier pieces on the bottom and to the left. If the arrangement is completely even, same size and shape, put the heaviest piece (or what visually appears heaviest) in the center.
A small 4X6 or 5X7 picture, poster or painting can be turned into an 11X14 or even bigger piece by adding a mat and frame. Using mats of varying sizes, textures and colors and different styles of frames is a fabulous way to cover a wall in art. Or you can opt to keep everything uniform, using the same color and style frame and mat throughout.
Hanging pictures over a fireplace mantle is a good look but remember to situate the bottom of the pictures between three- and seven inches above the mantle.
Do not fear negative space, which is a wall with no artwork. Not every square inch of wall needs to be covered with paintings and pictures.