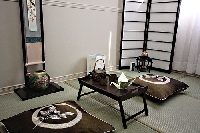 Asian style for your apartment starts with Feng Shui and asian decor elements
Asian style decor appeals to many apartment dwellers and homeowners because it has a peaceful feel and look to it. The concept of object positioning and the idea of space are crucial elements in Asian cultures and how their home interiors are designed.
Asians are responsible for the concept of Feng Shui, which is a decorating concept that follows the rules of object (furniture and accessories) positioning and space. Asian style for your apartment should start with an understanding of basic Feng Shui.
To Asians, the kitchen is the key room and is considered the soul of the home. Great thought is given to how the kitchen is designed and decorated because it is believed that this impacts the entire apartment or home.
Consider getting a money frog for your apartment. This is a Feng Shui toad that symbolizes good fortune. The three-legged toad has a coin in its mouth and is perched on gold ingots. The toad brings prosperity and wealth to the apartment dweller or homeowner. It should be placed near the front door or in one of the corners of the apartment, facing the front door.
Screens are an integral part of Japanese-inspired homes because screens separate rooms, making a distinction between what each room is used for. A rice paper screen that is decorative and colorful is a beautiful as well as functional addition to your apartment particularly if it is loft-style and there are no walls dividing the various areas of the abode.
Hand-painted vases are typically found in Asian-inspired homes. The vases often consist of gold foil and gorgeous color combinations of green, red, dark blue and yellow in stylized floral designs. The vases can be used to hold flowers or simply to stand alone and on their own, perfect for a mantle or coffee table.
~
Acquire hand-made silk Asian decorative pillows made from Chinese brocade silk and piping. Asian-inspired pillows often include embellish beads and silk tassels. This is a great way to add some personality and beauty to your apartment. The Chinese are known for silk-production, which they have been doing in excess of 5,000 years, so they are superb at creating eye-catching silk items. Brocade silk is often referred to as the "Oriental treasure." Once you set eyes on one of these pillows you will understand why.
Hemp pillows are also part and parcel of Asian style. Hemp has been utilized in Asia for centuries. It is used to make household items and clothing. Asian artisans create glorious handcrafted hemp pillows that will look perfect in your apartment. These pillows are natural and organic, free of artificial dyes, and may appeal to those who prefer the more natural look as opposed to the more ornate and stylized Asian style that the ornate silk pillows project.
Strategically placing pillows on your couch or chair or on the bed is an easy and inexpensive way to dress up your apartment and give it some color and personality. Color and design are a huge part of the Asian culture and are an integral consideration in Asian style for your apartment.