Bachelor party destinations
By Catalogs Editorial Staff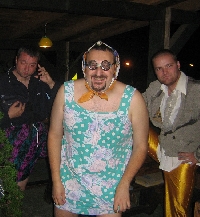 Picking the right destination for the next bachelor party
A bachelor party or ?debauchery personified? as it is sometimes referred to, signifies a rite of passage down the path of what is hoped will be marital harmony and bliss.
Bachelor party destinations
should always be far enough away from home so that no one who will remember what you did lives near enough to go and tell your wife. Bachelor party destinations should be places that close one eye to premeditated boozing, partying and the ogling of you-know-what.
Where are some cool bachelor party destinations?
1- New York City
Before you continue reading about the Bachelor party destinations there is a special announcement we would like to share with you. Catalogs.com has negotiated special medicare rates for our vibrant community of seniors. If you are over the age of 60, you can head over to our Seniors Health Section which is full of information about medicare. All you need is your zip code and a few minutes of your time to potentially save 100s of dollars on your medicare bills.
?The Big Apple? is known for many things and for a bachelor party it has definite merits. The ?city that never sleeps? has an endless nightlife that might appeal to a soon-to-be bridegroom. Hire a limo for the night. If drinking be the game, an old saloon like McSorley?s is a cool place to start, as women weren?t even allowed inside until 1970. Pay a visit to the historic Brooklyn steak house, Peter Luger?s for a memorable feast and then select one of the high-end ?gentlemen?s clubs? like Scores (333 East 60th Street) to finalize the debauchery.
~
2- Las Vegas
One of the most obvious choices for bachelor party destinations is ?Sin City.? A glittering town known for its lapses in judgment, there are fewer places with more shameless options; namely, rocking nightclubs, high-stakes gambling and strippers who were born brazenly sexy. One way to insure the best time at the best price is to find a reasonably priced hotel in the center of the strip and hire a party host who will plan your entire evening. The price will be steep (starting at about $200 to $250 per person), but it covers all drinks, limo transport, and VIP service. If you decide to go this route, do not pick a party planner from online sources; ask the hotel concierge for recommendations.
3- Vancouver, Canada
Go north, young bachelors, go north. Even Horace Greeley might have reconsidered directions for young men if he had ever visited seaside Vancouver. It is one of the best bachelor party destinations because it combines metropolitan pleasures with outdoor recreation. Whether kayaking, skiing or tackling the mountain bike trails, Vancouver offers all the comforts possible for a small peninsula, including the convenience of walking between all the classy restaurants, pubs and neon nightclubs on the Granville Street strip.
4- New Orleans, Louisiana
Bachelors and Mardi Gras are a volatile, highly desirable and simple combination. Reserve rooms in the French Quarter, arrive at ?The Big Easy? in time and step outside for the intoxicating music and fun that always lingers in the air. For a real treat, don?t just watch the parade; join one. It?s hard to be depressed in New Orleans and the good times roll all year round. Jazz-fest (April) or Halloween are also great times to visit and party until you can?t anymore.
5- Rio de Janeiro, Brazil
Sun-soaked tropical beaches, parties galore and almost naked girls from Ipanema contribute to Rio?s attractions as one of the world?s prime bachelor party destinations. Avoid Carnaval as the time for your bachelor party and keep to the ocean-side neighborhoods of Ipanema, Leblon, and Copacabana. The party-scene is highly charged and the women are beautiful and flirtatious.
 Wherever you decide that last fling should take place, be generous. It is a special occasion and you might even consider a posh but local hotel that the bachelor has always known about but has never been to. This can be vicarious and naughty; two vital components for any bachelor party destination worth its salt.
Have a good time and don?t lose your head at the next bachelor bash. Hang onto other possessions and/or body parts as well!
Popular Savings Offers