Beach sports: swimwear that works
By Catalogs Editorial Staff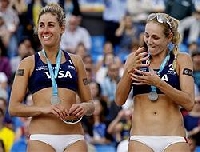 Beach sports swimwear works hard and allows you to freely engage in activities
You are headed to the beach, but your goal is not to bask in the sun. You are playing beach volleyball. The problem: What should you wear? For beach sports
swimwear
that works as hard as you are going to play is critical. Your bathing suit must cover what you want to cover, stay in place and stand up to the elements, plus your sweat.
You don't want to be completely covered up because you'll get hot and won't get any sun. On the other hand, you aren't sure how those Olympic and professional v-ball players do those remarkably athletic moves while wearing itsy, bitsy teeny-weeny bikinis.
Furthermore, after playing volleyball you would like to do some surfing and need a swimsuit that stays put while looking sexy so you don't have to give a passing thought to it. No one wants to spend time worrying whether their breast or butt is exposed when they are concentrating on having fun and engaging in sports.
Before you continue reading about the Beach sports: swimwear that works there is a special announcement we would like to share with you. Catalogs.com has negotiated special medicare rates for our vibrant community of seniors. If you are over the age of 60, you can head over to our Seniors Health Section which is full of information about medicare. All you need is your zip code and a few minutes of your time to potentially save 100s of dollars on your medicare bills.
The Top
Choose a swim top that is comparable to a sports bra. It covers you, supports your breasts, won't ride up and it comfortable and non-restrictive.
~
A built-in bra is necessary for most women because they don't want their breasts taking a beating as they jump and lunge. If the top is cut too low in front, you may spill out. Select a top that is higher in the front than you might normally wear when lounging at the beach and being sedentary.
The Bottom 
A high-cut bathing suit bottom is flattering and makes legs look longer. This is a workable fashion but the back needs to provide full coverage, or else you'll get a wedgie and put your butt cheeks on display for everyone on the beach.
Straps
Adjustable straps are a good choice because bathing suit material can stretch or shrink, requiring you to adjust the straps after wearing it repeatedly. Wide straps keep the top in place. The racer back style is not only good looking but keeps the straps away from the outer shoulders and arms.
Fabric
Consider the fabric. Spandex and nylon combined is preferable because it is durable. For surfing or kayaking, wear poly microfiber board shorts or choose boy short bottoms because this styles keeps your butt covered.
Olympics

At the 2012 Olympics the rules were changed and v-ball players were no longer required to wear skimpy bathing suits. They could wear sleeved tops and shorts, which was far more appropriate for those players from cultures where bikinis are frowned upon and not deemed suitable.

Brave Soul

Of course, if you have a kick a** body and aren't afraid to show it off, go ahead and wear one of the teeny-weeny bikinis while playing. It may or may not enhance your volleyball abilities but you will probably get a standing ovation from the peanut gallery.
Glue
Purchase body glue, which pageant contestants have long used to hold the edges of their swimsuit in place.This stuff is strong and glues the suit to the body. Some glue is waterproof.
Although not good for swimming (because it shouldn't get wet,) Latex glue, which is liquid Latex, is applied around the outside edges of the suit. It is peeled off when the person is finished wearing the suit.
Some glue actually alters the shape of the body as well as holding clothing in place. It lifts the buttocks and breasts.
Glue sprays are referred to as butt glue.
Now you know how these athletes hold their suits in place.
Popular Savings Offers