Benefits of volunteering
By Catalogs Editorial Staff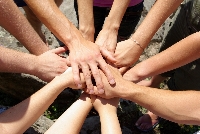 The benefits of volunteering; finding opportunity in a tough economy
There is no doubt about it, the U.S. economy is in rough shape and by the looks of it, things will get worse before the job market improves.  Some of the organizations hardest hit by this economic crisis include non-profits and service organizations.  Yet now, more than ever before, American communities are realizing that bad times make for good neighbors.  Volunteerism has hit an all time high.  There seems to be a sudden nationwide comprehension of the benefits of volunteering.
The poor job market has resulted in many careers being put on hold.  Layoffs, cut backs and downsizing have produced the highest unemployment rate in decades.  According to the U.S. Department of Labor, the current unemployment rate figure (for August of 2009) hit 9.7 percent.
Rather than being couch potatoes and feeling sorry for themselves, Americans are becoming proactive.  More citizens are now taking on volunteer work and realizing that the benfits of volunteering include gaining new skills, increasing networking opportunties, explore new careers or businesses, earning academic credit, contributing to their communities, and avoiding letting their resumes stagnate while they pound the pavement searching for new opportunities.
Before you continue reading about the Benefits of volunteering there is a special announcement we would like to share with you. Catalogs.com has negotiated special medicare rates for our vibrant community of seniors. If you are over the age of 60, you can head over to our Seniors Health Section which is full of information about medicare. All you need is your zip code and a few minutes of your time to potentially save 100s of dollars on your medicare bills.
"When people do good for others, they end up feeling better about themselves," says respected Management Consultant and author Billie Alban.  "The key to surviving these hard times is maintaining an optimistic attitude and a proactive approach.  Additionally, volunteering can bring you new professional contacts.  These networking opportunities are  the most important benefits of volunteering, as a good network can guide your career pathway towards your ideal job."
Volunteers have become vital resources for sustaining and expanding non-profit and service organizations during this challenging economic climate.  Now, more than ever before, organizations and non-profits are welcoming new volunteers and investing in volunteer training.
~
These days, even politicians are making a public appeal for Americans to rise to the call of volunteering.  Back in April of 2009, President Obama made a speech in honor of volunteer week, urging Americans to volunteer more in their communities.  During this speech, the President also signed a bill promising to increase the size of the Americorps Volunteer Organization from 75,000 positions to 250,000 positions by the year 2017.
Other political candidates have joined the volunteering bandwagon as well.  John Mertens, Independent candidate for the 2010 U.S. senate, states; "it's important to help each other during these hard times.  Volunteerism and philanthropy are critical when people are losing their jobs and homes. Political figures should set a stong example in their communities by rolling up their sleeves and becoming volunteers."  Mertens, a professor of engineering at Trinity College in Connecticut, has demonstrated his commitment to the cause of public education by volunteering in a variety of inner city schools. 
What can you do to learn more about volunteer opportunities?  Here are some suggestions.  Visit your local library to inquire about volunteer opportunities specific to your community.  Look for postings on community bulletin boards.  Depending on your interests and skills, you can inquire about opportunities at your local museums, animal shelters, soup kitchens, churches or temples, hospitals, recycling centers or nursing homes.
If you are looking for more expansive national opportunities specific to your personal skills or interests, one of the best websites to peruse is VolunteerMatch.  VolunteerMatch offers a free service that strengthens communities by making it easier for good people and good causes to connect.  Their website has become a leading internet volunteer recruiting tool for more than 71,000 nonprofit organizations.
The economy may be in a bad spot, but communities are pulling together and learning the benefits of volunteering.  These communities are gaining an appreciation for the things that matter most – like volunteering and giving back.
Popular Savings Offers