Benjamin Franklin's words of wisdom
By Catalogs Editorial Staff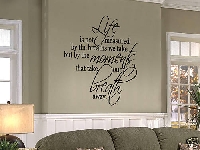 Unusal concepts in interior design: decorating with famous, inspirational quotes
If you are interested in purchasing wall decor or artwork for your classroom, corporate office, or place of business, why not consider displaying inspirational or
motivational quotations from great leaders
, philosophers, inventors or authors?
Displaying inspirational quotes is an ideal way to encourage students, employees, team members or patients to strive to reach their personal goals, and stimulate a group of people towards a cohesive purpose.  
Today, many managers of small businesses, presidents of corporations, principals of schools, directors of hospitals, community centers and various non profit organizations have made a point of publicly displaying famous inspirational quotations as a part of their work-place decor.
Before you continue reading about the Benjamin Franklin's words of wisdom there is a special announcement we would like to share with you. Catalogs.com has negotiated special medicare rates for our vibrant community of seniors. If you are over the age of 60, you can head over to our Seniors Health Section which is full of information about medicare. All you need is your zip code and a few minutes of your time to potentially save 100s of dollars on your medicare bills.
Traditionally, famous quotations were primarily featured on posters, framed prints or other styles of hanging decor.  Today, however, famous quotations can be ordered in the form of stencils, adhesives, or other materials that can be applied or transferred directly to walls, glass, mirrors, woodwork, or even furniture.
Among the most popular motivational quotations and wall words being incorporated into architectural decor and interior design are Benjamin Franklin's words of wisdom.  Benjamin Franklin, celebrated for his intellectualism, work ethic, inventions and political contributions has made his way into the decor scheme for public libraries, government buildings, technology centers, innovative small business headquarters, schools and university campuses.  
For example, the hallway walls of several academic buildings of the University of Chicago have been emblazoned with large-scale script boasting Benjamin Franklin's words of wisdom.
The most popular wall decor selections from Benjamin Franklin's words of wisdom include:
~
Famous Quotes by Benjamin Franklin
?Little strokes fell great oaks.?
?If you would not be forgotten as soon as you are dead, either write things worth reading or do things worth writing.?
?A wise man will desire no more than what he may get justly, use soberly, distribute cheerfully, and leave contently.?
?Lost time is never found again.?
?A penny saved is a penny earned.?
?An investment in knowledge pays the best interest.?
?God helps those who help themselves.?
?He that is of the opinion money will do everything may well be suspected of doing everything for money.?
?Never leave that till tomorrow which you can do today.?
?The Constitution only gives people the right to pursue happiness. You have to catch it yourself.?
?There are three things extremely hard: steel, a diamond, and to know one's self.?
?There was never a good war, or a bad peace.?
?To succeed, jump as quickly at opportunities as you do at conclusions.?
?We must, indeed, all hang together or, most assuredly, we shall all hang separately.?
?Wise men don't need advice. Fools won't take it.?
A wide variety of online sites, art print companies, interior designers and specialty wall decor firms sell elegant framed posters, as well as adhesive materials boasting Benjamin Franklin's Words of Wisdom.  Other famous quotations gaining popularity in the interior design realm include phrases by philosophers, poets and leaders such as Abraham Lincoln, Albert Einstein, Aristotle, Gandhi, Mark Twain, Nelson Mandela, Thomas Jefferson, William Shakespeare and countless others.
If you are searching for a unique, stylish and meaningful way to decorate or enhance the atmosphere of a place of business, community environment, or even a private home, consider designing interiors with great quotations.

References:
Famous Quotes and Authors
World of Quotes
Popular Savings Offers