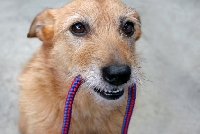 There is no magic in choosing the best dog leashes unless you know your dog
If you have a dog, at some point you are going to need to buy a leash. But with dozens of choices in most pet supply stores, how can you pick the right one for your puppy or dog? And does it matter? Is there such a thing as the best dog leashes, or is it just a matter of taste?
The fact is, it matters a lot. And the wrong choice could put your pet…or you…in danger.  
So what factors matter when you're selecting a lead for your dog? Here are some of the things you need to keep in mind when it's time to head to the pet store.
Size
The size of your dog is one of the most important factors in helping you pick the right collar and leash. But unfortunately, many dog owners are drawn to the stylish and often bedazzled retractable leashes that fill the shelves of high end pet boutiques.  
While these pretty leashes might work for a toy or small breed, a larger dog can easily snap one of these if they decide to take off running after that enticing squirrel or cat while you're out walking. That could lead to injury or even a lost dog.  
Make sure the leash you select can stand up to your pet's strongest pull. A rule of them is to buy at least a 1″ wide leash for a large dog, and 3/4″ for a medium dog. Any thinner and you run the risk of having your dog escape on a walk.  
~
Age
The age of your dog is a factor in selecting the right size, length and material for their leash. A puppy should not be walked on a heavy leash that's likely to hit him or her in the back, side or head as you walk. Your pup could develop a fear of the leash, or begin to grab it.  
Keep puppy leashes short when you're among crowds or near other dogs. A longer training lead is a good second option for when you're working on recalls, stay or other puppy training. 
A older dog with vision or hearing problems is also a good candidate for a shorter leash. Keeping them close by your side will keep them safe and make them feel more secure on walks. 
Material and construction
There are lots of novelty leashes available, from sports team insignias and travel logos to styles that coordinate with an owner's outfit. 
But a dog's collar and leash is more than just a fashion accessory, so make sure the ones you buy are made of durable material. Check loops and seams for strength, and make sure the latch that connects to the collar closes completely. 
If your dog tends to bite at his or her lead, a leash made of lightweight chain might be a good choice. If nylon scratches or irritates your hand, opt for a leather one. 
Training
A well trained dog who walks well on leash with minimal pulling can be safely exercised on a thinner or lighter weight design than a dog who often pulls or sometimes fails to respond to verbal commands in distracting situations. 
Of course, while you're training in your yard or a dog park, a longer lightweight choice is best. It's hard to train on a 6′ leash!
Environment
The place where you live and walk your pet is also a factor in selecting the best leashes. Retractable leashes might work well for small dogs in an open park, but where there are crowds, traffic, other dogs or barriers, a short leash makes it easier to keep your dog nearby, under control and safe. 
You, the Owner
The last factor to consider is you, the person who will be walking the dog. If you have hand strength issues, a bar-style leash handle will give you a better grip and easier control. Or you might want to opt for a waist-cinch leash, that leaves your hands free. 
If children will be walking your pets, select leashes made from softer materials like leather or vinyl, as woven nylon leashes may be painful in small hands.