How big women can look good working out
By Catalogs Editorial Staff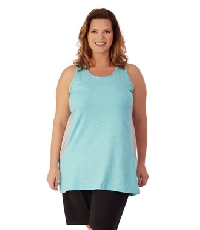 Activewear tips: Big women can look good working out
A successful fitness journey starts with stepping through that gym door on a regular basis. This is so much easier to do when you?re wearing stylish workout clothes that aren?t going to ride up, droop down or turn you into a sweat monger.
Yes, health is an important enough reason to hit up the gym, but let?s be honest. It?s not the only goal. People workout because they want to look their best ? it?s only natural. Not only that, we also want to look good while we?re putting in those miles on the treadmill. Why not?
So what?s stopping you? Perhaps too much time annoyingly spent adjusting the shirt, pants and bra? Men have it much easier, but don?t give up. With the right plus size activewear, big women can look good working out.
Before you continue reading about the How big women can look good working out there is a special announcement we would like to share with you. Catalogs.com has negotiated special medicare rates for our vibrant community of seniors. If you are over the age of 60, you can head over to our Seniors Health Section which is full of information about medicare. All you need is your zip code and a few minutes of your time to potentially save 100s of dollars on your medicare bills.
That?s right – the problem is your clothes. Sweats are fabulous for cozy, comfy days at home. They?re also great for camping, playing around with the kids and watching sports on chilly bleachers. However, they?re not right for exercising. 
Switch to synthetic clothing
Ever glance in one of those full length mirrors at the yoga studio only to discover a horror of sweat stains under your arms and other places? Not only are those sweat pants not doing you any favors in the sexy department, they?re also holding back your fitness.
~
Sweats and any other kind of cotton clothing absorb sweat so you stay wet and itchy throughout the entire workout. Make the switch to technical synthetic fabrics created to wick sweat and keep you dry, and you?ll feel the difference right away. Synthetics are the most flexible fabrics for exercise clothes.
Reluctant to spend the money? 
Athletic gear goes on sale all the time and many brands start at reasonable prices. This clothing is made to last and holds up to constant washing. Consider this an investment in yourself. Pull on a pair of breathable shorts and a performance sports bra and see for yourself how good it feels.
Made for you
Big women can look good working out in clothing made for curvy bodies. To be clear, plus-size workout outfits aren?t just bigger. They?re designed with roomier pant legs, waistbands with reinforcement and ventilation under the arms so you stay cool not exposed.
Outfits created with your proportions and shape in mind will keep you comfortable no matter how hard you exercise. The more comfortable you are the more fun you have and nothing enhances a person?s appearance like a smile.
Comfortable and stylish
In addition to providing support and keeping you cool and dry, plus-size athletic clothing is more stylish than ever. There are cool designs to choose from in sleek, sexy colors or go with a few reliable basics in classic neutrals with vivid accent colors. 
Yoga pants, workout capris, shorts, a tank and a stretch technical tee will get you started. For maximum comfort, look for tops that extend below the waistline and offer full coverage around the bust. Sleeveless tanks offer full range of arm movement and keep you way cooler that tops with sleeves.
Confidence reigns
Invest in a high performance sports bra and you?ll be able to try new activities without worrying about bouncing around. Take it even further and treat yourself to moisture wicking underwear. You?ll be the most comfortable athlete at the gym, guaranteed.
Leave the makeup and beauty products at home ? you don?t need them. Big women can look good working out because real change is happening from the inside out. You're building muscle and endurance, and taking care of your body. You?re harder to keep up with and that?s sexy. 
Keep going after your fitness goals. Getting comfortable in your body is a beautiful thing.
Popular Savings Offers