Building a log home considerations
By Catalogs Editorial Staff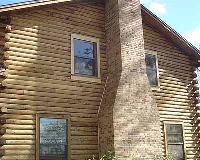 When building a log home, considerations should be researched and planned
Building your own log home can often seem like a daunting yet exciting experience.  There are many different considerations, yet there is the prize of feeling a sense of originality when you stand in your own brand new home.  No one has ever lived in it before, and it looks exactly the way you want it to look.
For many of us, the dream of owning a log home is a great one — a vision of a rustic home.  Building your own log home can be a rewarding experience, but there are some considerations you should keep in mind before going ahead with your project.
The logs:
Before you continue reading about the Building a log home considerations there is a special announcement we would like to share with you. Catalogs.com has negotiated special medicare rates for our vibrant community of seniors. If you are over the age of 60, you can head over to our Seniors Health Section which is full of information about medicare. All you need is your zip code and a few minutes of your time to potentially save 100s of dollars on your medicare bills.
If you are serious about building your own log home, you know that there are different types of logs that can be used.  Not just different types of wood, but different cuts.  The two different types are handcrafted logs and milled logs.
Handcrafted logs are, well, handcrafted — cut and peeled by hand.  These logs will differ in size and shape just as much as the trees that they come from.  This also means that the logs won't have a uniform diameter.  Milled logs are uniform in diameter and are precut to fit together.  The type of logs you choose really depends upon the look and feel you want to give your home as well as the amount of money you're willing to spend.

~
Keeping it up:
Maintenance can be a large consideration for log home owners.  Wood can contract and expand through time, so your builder should have a good knowledge of log homes before he starts.  Also since your home will be made entirely of wood, pests are another consideration. 
The biggest pest problems you will probably run into are carpenter bees and termites.  Log decay should also be something to think about.  Damage done to your home in these ways aren't usually covered by insurance — so make sure you know different ways to combat these problems.

Your budget:
As with building any type of home, budget is a large consideration.  This can determine what types of logs you use or if you make any changes in building plans.  Since 60% of a home building's budget goes to labor costs, consider helping out the workers.  Maybe you can help with clean up or do some minor painting.  Any little help can cut down your costs.
It's important to also to keep in mind that costs such as building permits should also be planned into the budget.  It can be fun to think of all the construction and what your home will look like when it's finished, but building permits are required before you even get started.
Planning out your own home can be a fun experience — beginning from scratch and crafting your own place.  You can decide what you want and where you want it.  There's even a certain comfort in knowing that you are the first to have lived there.  If you keep these simple tips in mind when planning out your log home, it can certainly be the house of your dreams.

References:
Building your log cabin home
Five things to know
Popular Savings Offers