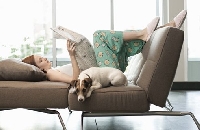 Comfort is priceless! Do your research prior to buying a sofa
It?s a cold, rainy evening, and nothing could be better than snuggling up on the sofa with the cat, a good book, a cup of tea and a bowl of popcorn.  On a night like this, comfort is priceless.  One thing is for certain, you will be thankful you purchased the right sofa.  Whether you are a home owner, an apartment renter, or even an interior designer; buying a sofa is a major decision, and probably one of the most significant furniture investments you will make.
Before you begin shopping for a sofa, consider how your sofa will be used.  Will it be used for everyday activities such as reading, watching television and relaxing, or will it be used in a formal setting?  Will you need a sleeper sofa that can be converted into a bed for guests or visitors?
Next, consider who will be using your sofa, friends, family members, elderly people or children?  Deep seating will be more appropriate for taller people, while a shallower sofa, or adjustable reclining sofa may be more comfortable for people with medical issues such as back or knee discomfort.
Prior to buying a sofa, be sure to measure your space!  Measuring the area where you plan to locate the sofa is important.  Equally as important is measuring the doorway, entryway, or stairwell that will need to accommodate your sofa when you bring it home.  You will be in for a big disappointment if you can?t fit your new sofa through the door!
~
Research frame construction and materials.  Buying a sofa that is built to last may cost you a few more dollars up front, but it will save you money in the long run, because you won?t need to replace it for years to come.  The best sofa frames are solidly constructed from kiln-dried hardwoods (oak, ash, maple, etc.), while inexpensive furniture is generally made from softer and cheaper pine lumber.  Stronger frames are screwed together securely, while cheaper frames may be stapled.  If you are buying a reclining sofa, or sofa bed, test all levers and mechanisms to ensure they work smoothly.
Feel and test the interior sofa springs and ask about spring construction.  The most expensive, and high quality springs are ?8-way hand tied?.  Sinuous or serpentine spring construction is also quite durable. 
Style is key factor when selecting a sofa.  There are many unique styles of sofas ranging from sophisticated Chippendales and elegant chesterfields, to informal modern sectionals and comfortable Lawsons.  Familiarize yourself with the various style names before approaching a furniture showroom. 
Consider your sofa color.  Neutral colors are always a safe bet, as are earth tones like beige, grey, tan or brown.  Select a color that will compliment your rug and wall colors.  Remember, you can always add color to the room with things like rugs, art, curtains, pillows, etc. that are easier to change when you feel like it.
Select an upholstery for your sofa.  There pros and cons to all types of fabrics.  Leather is long lasting and durable, but will show water or stains.  Cotton is soft, not as stain resistant and not as durable.  Polyester, while strong and easy to clean is not as soft or comfortable.  Wool is both durable and stain resistant, but it does need to be moth-proofed.  Velvet and chenille are soft and very attractive, but may wear out with heavy use over the years.
For fire safety reasons, it is also wise to evaluate the fire resistance of the sofa upholstery you purchase.  When buying a sofa, look for the gold UFAC tag, indicating that the sofa manufacturer certifies it is made in accordance with the Upholstered Furniture Action Council regulations.
Last but certainly not least, accessorize your sofa with personal touches.  Adding throw pillows, custom made slip covers, or home made afghans give your sofa a whole new look.  Ultimately, your sofa should compliment your lifestyle, home furniture, and interior decor.