Fun car travel with kids
By Catalogs Editorial Staff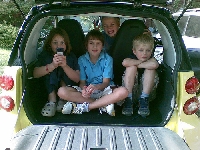 Tips for Parents: Great Car Travel Games, Activities, Projects to Entertain Kids
Long car trips can be a drag; particularly if you are traveling with young children. In fact, most parents dread the idea of lengthy car trips with rambunctious children who grow easily bored, frustrated, squirmy, and eventually tearful or cranky. 
Sometimes, however, long car trips are unavoidable for families who are planning vacations, trips to visit friends or relatives, or are relocating to a new city or town. Certainly, no parent want wants to hear their child wailing ?are we there yet?? from the back seat.  
Fortunately, there are many entertaining, fun, and even educational activities, games and projects and cool family travel gear that can keep children occupied during long car trips. If you are seeking ideas, inspiration or tips for fun car travel with kids, the list below will serve helpful.  
Before you continue reading about the Fun car travel with kids there is a special announcement we would like to share with you. Catalogs.com has negotiated special medicare rates for our vibrant community of seniors. If you are over the age of 60, you can head over to our Seniors Health Section which is full of information about medicare. All you need is your zip code and a few minutes of your time to potentially save 100s of dollars on your medicare bills.
This list contains a selection of the most highly recommended travel games, activities, projects that parents have offered as tried and true solutions for attaining peaceful, enjoyable and even memorable road trips with children.
Fun Car Travel with Kids:  Inspirational and Creative Products, Games, Activities and Projects
1)   Car Travel Bingo: 
You can purchase these travel bingo games from a variety of children's stores, toy stores or online retailers. However, you can also save money by make your own. It's easy enough for any parent to accomplish using some scrap cardboard and magic markers. Ideas for road trip bingo games include:  license plates from different states, road signs and highway signs, or even towns or landmarks on a map.
2)   Pipe Cleaner Sculptures:
Colorful pipe cleaners are wonderful, soft, lightweight, mess-free, arts and crafts products that are easy to carry along on any car trip. Challenge your child to create thee-dimensional sculptures of animals, people, vehicles, landmarks or other objects that you observe during your car trip.
3)   Keep a Travel Journal:
Are you planning lengthy travels or a family vacation? Encourage you child to preserve his or her memories of your trip by creating a travel journal or scrap book. Participating in planning sight-seeing, rest stops and learning about the places you visit goes a long way toward making car travel with kids a rewarding experience. Provide your child with a notebook to write, draw and record your adventures. Scissors, tape, markers, pens and even photographs may be needed to create a travel journal. Be sure to pick up brochures, fliers, or other educational materials about the sites, places and landmarks you visit. Encourage your child to incorporate these materials into the scrapbook.
4)   Magnetic Games:
If your kids love board games like checkers, chess, battleship be sure to locate the magnetic, travel versions of these games, and avoid loosing pieces between the seats or on the floor. Other magnetic drawing games such as wooly willy or etch a sketch are mess-free, travel toys for toddlers and older kids that can provide hours of entertainment during road trips.
5)   Audio Books:
Stories are one of the best ways to occupy young children for long periods of time. As many children (and parents) experience car-sickness when trying to read books while moving in a car, avoid bringing books. Instead, bring audio books that will engage the whole family. 
~
6) Take breaks
Particularly if you plan to undertake lengthy car trips, it is important to stop regularly and give kids a chance to run around, exercise and burn off some energy. In addition to quiet car games, bring along a cooler of snacks, sandwiches and juice boxes as well as some frisbees, balls or jump ropes. Stop periodically at rest stops or parks for picnics and driving breaks. During these stops, encourage kids to play and exercise whenever possible.
Resources:
MomsMinivan.com: 101 Car Games
Family Car Travel
Popular Savings Offers