What is career fashion?
By Catalogs Editorial Staff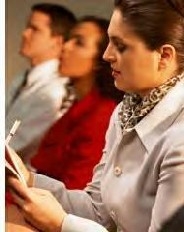 Opposites rarely attract when your career calls for fashion.
All together, now: stripes and plaids or polka dots and leopard prints? There may be a place for clothing calamities such as these but that place certainly is not the workplace. The flagrant flouting of traditional fashion rules works best onstage at a grunge concert or on a quick round of midnight dumpster diving. In most cases, extreme fashion is not career fashion.
Ignoring traditional dress codes rarely earns any benefit for people seeking to be viewed as serious about their careers. Career fashion is based on building a wardrobe that is comfortable but classy. Promotions are few for fashion mavericks unless they're employed in a house of design where the outrageous is considered normal. Generally, well dressed people excel in employment environments that offer recognition and appreciation of the appropriately dressed and meticulously groomed employee.
How can one get a preview of what to wear at a job?
There are some ways to preview the culture of a corporation, retail venue or any employment situation. Are you going to an interview? Engage in a little detective work. Go a day early and surreptitiously observe people as they enter or exit the building. Is it a navy blue crowd? Are pinstripes and pastels a part of the scenery? Do the women wear high heels or sensible footwear? Chances are good that if somber tones prevail, they are a reflection of a no-nonsense atmosphere where most people's time is spent working instead of socializing.
Before you continue reading about the What is career fashion? there is a special announcement we would like to share with you. Catalogs.com has negotiated special medicare rates for our vibrant community of seniors. If you are over the age of 60, you can head over to our Seniors Health Section which is full of information about medicare. All you need is your zip code and a few minutes of your time to potentially save 100s of dollars on your medicare bills.
Why is it a good idea to blend in with fellow workers?
In a work situation with a casual atmosphere, brighter colors and fashionable accents such as jewelry may be more acceptable?in fact, mandatory if that is the flavor of the enterprise. In a place like that, it is perfectly okay to encourage camaraderie by wearing some of the fashionable items seen in seasonal catalogs or in the malls.
Casual but classic fashions abound. Comfort is a consideration. Few people these days can tolerate garments that require dry cleaning, so washable fabrics compose a large part of career fashion. Some top manufacturers are showing stylish apparel designed for comfort but accented with enough detail to lend a sense of individuality to any buyer.
~
Women enjoy a wide variety in fashion choices that enhance career fashion. They may choose to add to the wardrobe a wide belt or a roomy handbag with easy-to-access compartments for cell phones, iPods and such. Men surely will look more like executives if they gravitate toward leather accessories such as suede carrying cases for their laptops and shoulder bags of grainy cowhide for all their personal possessions.
How can one's physical characteristics be assets to fashion?
A good look in the mirror is the best way to judge the effect a particular ensemble may have on fellow employees, company officials or corporate superiors. Look from the front. View the outfit from the side. Use a handheld mirror to view the scenery in the rear. Ask yourself what you would think if you were looking at the outfit as if worn by a stranger.
Determine your
perfect bra fit
or trouser length. Tuck in that shirt.
? Are there bulges at the waistline?
? Does the fabric stretch in the rear?
? Is the neckline too revealing?
? Are the trousers too long?
? Are the sleeves too long or too short?
? Can you raise your arms without strain?
? Is the color too bold?or too blah?
Objectivity is an attribute when it comes to deciding upon clothing that will be a boon to career fashion. Consider the passing crowd on any street. Women whose midriffs bulge above their waistbands often are pegged as slovenly and insignificant. Men who might otherwise pass a visual once-over fail immediately if their nicely pressed pants terminate at a pair of scrubby shoes replete with scuffs and run-down heels.
Career fashion calls for some hard decisions. If something does not flatter your figure, do not wear it. Trends come and go. People tend to wear what is the hot look of the moment, even if it looks terrible on them. Be honest with yourself and you always will look great as you climb the ladder to success in your career.
Popular Savings Offers