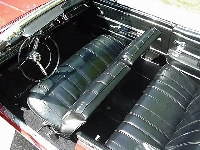 Pointers to help guide you through your classic car interior restoration
Before deciding to restore a car?s interior, it?s a good idea to determine your ultimate objective. A complete Chevy interior restoration can be expensive, especially if it?s an older car for which parts are either unavailable or very rare. If it?s a classic car that will be worth a lot of money when fully restored, then the time and money involved may be a good long-term investment.
Restoring a classic car is a trip back in time, and nostalgia can sometimes overcome good business judgment. Before you start tearing the car apart, figure out what you want to do and get competing cost estimates. It helps if you are doing the work yourself, but make sure all the parts and pieces you will need are actually available.
Interior kits
Kits are available for many classic automobiles that include seat covers and headliners made for your specific model. These kits work well if the springs are not worn out and the seat support structure is still functional. Otherwise, you may be left with sagging seats with depressed cushions. If the interior is structurally sound, you can achieve a professional car interior restoration at an affordable cost.  

Upholstery
Upholstery is deceiving because it can look good without exposing underlying problems. Even cars with low mileage and very little wear and tear can have these problems due simply to age. After many years, the vinyl and stitching will suffer from dry rot and hardening. The seat covering will eventually crack and come apart when someone sits on it. The only way to avoid this is to store the car in a temperature and humidity-controlled environment.
The first decision is whether to recover or reupholster the interior. If you can remove the existing covers, they can be used as a template for new ones. This may be possible if the molded foam inserts are intact and reusable, or if you can match them with replacements. If the condition of the existing upholstery has been severely degraded by wear, rodents, or misuse, the better alternative may be to find another set of seats.
Aftermarket suppliers offer a wide array of car restoration parts and products to enable you to do the Chevy interior restoration yourself. Custom shops will design and create made-to-order solutions if you can?t find what you need and you want to match the original interior.
~
Headliners
Age and sun will eventually damage your car?s ?ceiling? to the point where it won?t withstand much pressure, even from a finger. Cars manufactured prior to 1976 shared the same type of headliner that consisted of fabric stretched over bows attached to the inside of the roof. The foam backing eventually starts to disintegrate, and the fabric will separate from the foam and droop downward.  Once it reaches this point, the only way to restore it is to remove the headliner board and start from scratch.
The process for this restoration varies by car model, but it generally involves the removal of all interior car parts: the trim molding, visors, and overhead light fixtures. If you do this yourself, wear a dust mask since there is likely to be significant amounts of loose material. Then you can proceed with the removal and replacement of the existing headliner. This process requires care and skill not to tear or damage the new liner.
Door panels
Older cars had simple door panels that usually consisted of matching vinyl over thin padding attached to heavy fiberboard. Time and abuse lead to their eventual demise as they are often kicked at the bottom and suffer from inside condensation. If you replace them, make sure the backing is either heavy plastic or fiberglass. These resist moisture degradation, and are necessary if the car is air-conditioned.
The removal of most door panels requires a special tool to pop the panel from the retainer clips without damaging them. The tool should be available at auto supply stores. In addition, there may be small screws or bolts along the edges or bottom of the panel. All of these must be removed before using the special tool to pry the panel loose.
If the car has electric windows, locks, or power seats, there will be wiring within the door itself.  The wiring must be disconnected or unlocked from the retainer pins to avoid damage to the electrical system.
Bottom line
Chevy interior restoration is possible on almost any car if you have the money and patience to see it through. The worse shape the car is in, the more likely it is that you will need professional help.  Before you start, remember how things looked before you started. It will help to take some digital photos at different points during the process. This will make the reassembly much more efficient.
   
Resources:
The Impala Project
Tops4Less