How to choose a pool cue
By Catalogs Editorial Staff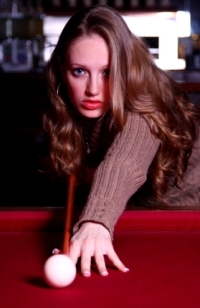 Owning your own cue is an essential step in improving your game.
There comes a time in every pool player's life when owning his or her own 'stick' becomes a necessity. House cues are often generic, mass produced pieces of equipment made from cheap materials and abused by the pool hall patrons. Owning your own cue is an essential step in improving your game. Here are a few tips to help you choose a pool cue that's right for you.
The Problem With House Cues
For the serious pool player, deciding to purchase a pool cue can make a huge difference in the way you play the game. Almost any widely-known brand will be better made than house sticks.
Before you continue reading about the How to choose a pool cue there is a special announcement we would like to share with you. Catalogs.com has negotiated special medicare rates for our vibrant community of seniors. If you are over the age of 60, you can head over to our Seniors Health Section which is full of information about medicare. All you need is your zip code and a few minutes of your time to potentially save 100s of dollars on your medicare bills.
House cues are made of cheaper wood and tend to have ordinary plastic ferrules (the white part near the tip) and cheap tips that don't hold chalk well. They are heavily lacquered, which means they slip easily if there is any sweat or humidity. And because they are not personally owned, people do not take care of them, leaning them against walls and tables, which leads to warpage and nicks.
Try Different Brands and Types
The first thing to do to when considering how to choose a pool cue is to play the game itself. That means trying out different brands and types of cues to see which one fits your hand the best. It may mean borrowing a friend's cues or shooting a few balls in a billiards supply store. However, the effort of trying different sticks on for size will be well worth the effort. Playing is the best way to get a feel for your game and to get to know the weight, length and style of pool cue that works best for you.
Familiarize Yourself With Terms and Manufacturers
Make sure to familiarize yourself with the terms and the manufacturers of pool cues. Cues range from large-scale, low-quality factory productions to small-scale, one-at-a time hand crafted originals. Choosing a pool cue is a personal decision and listening to the gossip or hype about a certain cue isn't wise. You need to decide what works for you and your game and not worry about the thoughts and opinions of the general public.
Narrow Down the Field
Once you get a feel for what you like, narrow down the field. Perhaps one of the first and easiest considerations to work through is whether you need a one or a two-piece cue. A one-piece offers more quality for the money but is difficult to travel with. A two-piece has a screw joint in the middle, so it can be broken down into two parts. Quality cues will fit together smoothly and have a solid metal joint. For the serious pool player who travels to tournaments and out of town games, a two-piece may be the more convenient choice.
Wood or Fiberglass/Graphite?
The second thing to consider is whether you want a wood cue or a fiberglass/graphite cue. If you decide that wood is more your style, make sure to buy one made of hardwood. This will ensure that the stick doesn't warp or bend easily. Most quality sticks are made of maple for durability. Fiberglass or graphite cues usually have a wood core and are less likely to warp, however purists would tell you that nothing beats the simplicity and timelessness of a wooden cue. This decision will be based purely on personal preference. Choose a pool cue that works for you.
~
Cue Logistics
Once you've decided on the kind of pool cue you like, it's time to turn your attention towards logistics; the weight and length of a cue. Regulation cue lengths are 48, 52, 57 and 60 inches. The typical rule of thumb is that the longer the arm, the longer the stick. The weight of the average pool cue comes in between 17 and 21 ounces. Most experts would agree that beginners should use a heavier stick as the added weight will help keep the cue on line longer and provide some addition spin to the ball. A lighter stick, 18 or 19 ounces, requires a more accurate, skilled stroke but it is easier to use and provides more control over the speed of the ball.
Check Out the Tip
Another consideration to make when you choose a pool cue is the tip. A soft tip provides an added feel through a shot but a hard tip lasts longer on the stick and keeps its rounded shape better. Most pros opt for a hard tip so that fewer repairs are necessary.
Test the Grip
Make sure to check the grip. Most quality cues will come with an Irish linen or nylon wrap and provide a more pleasant feel than plain wood.
Aesthetics are Important
Aesthetics come next. When you are trying to choose a pool cue, make sure to check the finish for bubbling, chips or dents. Ensure that the inlays (if the cue has any) are lined up smoothly and check under the bumper of the cue to see if it has a weight bolt or screw so you can adjust the weight of the cue. Make sure the stick is completely straight and not crooked. Place the stick on a flat surface, like a table and roll it you're your palm. If it's crooked, it will jump. Lastly, bounce the bottom (not the tip) of the cue on the floor and if you hear any weird noises like rattles, pick another cue.
Be Economical at First
The most important thing to consider when you set out to choose a pool cue is that beginners should be economical. Don't spend big bucks on a stick until you know for sure what you need and what works best for your game. You can always invest in a higher quality cue once you've improved.
Following the above tips will help you choose a pool cue that's right for you.
Popular Savings Offers