Choosing a camera that's easy to carry
By Catalogs Editorial Staff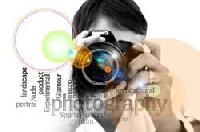 When choosing a camera that's easy to carry, there are more options than ever
Cameras that are easy to carry have always been popular. Many more vacations, parties, and family events have been immortalized with photography once the camera could easily slip into a pocket or small bag. Just a few decades ago, the 110 film cameras were popular, usually with an electronic flash and telephoto lens.
Today, there are seemingly endless options when it comes to cameras that are easy to use, easy to carry and reasonable to buy. 
Point and Shoot
Before you continue reading about the Choosing a camera that's easy to carry there is a special announcement we would like to share with you. Catalogs.com has negotiated special medicare rates for our vibrant community of seniors. If you are over the age of 60, you can head over to our Seniors Health Section which is full of information about medicare. All you need is your zip code and a few minutes of your time to potentially save 100s of dollars on your medicare bills.
These cameras are great for photography novices. They offer good image quality and are usually small enough to fit into pocket or handbags with ease. Point and shoot makers often add features to these cameras that aren?t available in other, higher-end options.
Why?
For ease of use and because the lenses in a point and shoot camera are fixed. Newer cameras also offer HD video modes, giving users the ability to take high-quality videos in addition to the usual still pictures. For the adventurer, there are waterproof and shock-proof cameras.
The down side to point and shoot cameras is that the adjustments are limited. So if you have more experience and understand how to adjust cameras to your liking, you may still want a point and shoot camera for basic work while having another camera better suited to your talent. 
~
Action Cameras
These are small cameras that can be mounted to just about anything. They are perfect for sports and adventure photographers or for those looking to bring a unique perspective to their everyday photography. Although they primarily capture video, still images or time-lapse photography can also be taken with action cameras. The biggest advantage with these cameras is that they are far smaller and easier to carry then their camcorder cousins.
When looking at choosing the action cam for you, consider the activities you want to record. Often, this means size to make it easy to carry, frames per second (fps) to handle high speed action, how the camera mounts for body, helmet or other equipment and if it will be in or around water.
For those of you who are tech savvy, some cameras give you remote control, letting you use your phone as a live viewfinder and wirelessly transfer files. 
Camera Phones 
If you have a cellphone or smartphone with a camera built in, you may not need to purchase a separate camera. This is the ultimate easy to carry solution, especially if you are never far from your phone. The ability to take a good picture and then immediately share the image is becoming more and more popular.
Phone makers are paying attention to this trend and are incorporating better cameras into their cellphones. Phone cameras are perfect for casual photos of family and friends and for those who care more about the memory being captured than the technical aspects of the photo.
The image quality is usually good enough to print and you can send your photos to many printers wirelessly or through email to print service locations. 
EVIL Cameras
EVIL stands for electronic viewfinder with interchangeable lenses. These are more technical than a point and shoot camera and are not as a digital single-lens reflex (DSLR) camera.
EVIL cameras let the operator change lenses and give them more manual controls. They are a bit larger than a point and shoot and may not easily fit into a pocket. The interchangeable lens feature lets users have plenty of zoom and angle options. Additional sensors mean they can take better low-light pictures.
This is a great camera for those who are looking for more control over the technical aspects of the photo while still having point and shoot modes available. 
Without a doubt, there are plenty of camera types to choose from. Buyers need to consider how they will be using the camera and the types of photos they will take most often. Budget is also a consideration, with cost running from under $100 to several thousand dollars. After you do your homework, you?ll know whether to go for a top of the line point and shoot, a lower end to mid-grade EVIL camera or simply upgrading to the latest and greatest cellphone. 
Popular Savings Offers