Choosing a home safe to protect valuables
By Catalogs Editorial Staff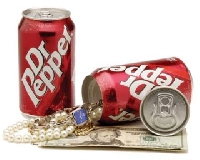 Diversion safes: how to hide your valuables in plain sight
There is simply no way to put a price tag on the comfort and reassurance of feeling safe and protected in your own home. Investing in reliable locks,
security systems
, or video surveillance is one way to lessen the likelihood of burglaries and break-ins. However, if a burglary does occur, knowing that your valuables are safely hidden and secured will help you to breath easier.
Investing in a high quality, professional safe can be a sound decision, but believe it or not, it can be even wiser to hide your valuables in plain sight. When it comes to choosing a home safe, it pays to consider diversion safes.
Diversion safes are unique safes that are made to look identical to common household products such as coffee cans, bottles of hairspray, cans of Ajax cleaner, or even books that will look absolutely inconspicuous when added to other titles amidst a book shelf. Typically, diversion safes that mimic canned goods or bottles are also weighted to feel full, although they are hollow inside, and feature seamless screw-off lids or bottoms. Many of these diversion safes are also fire resistant and waterproof.  
Before you continue reading about the Choosing a home safe to protect valuables there is a special announcement we would like to share with you. Catalogs.com has negotiated special medicare rates for our vibrant community of seniors. If you are over the age of 60, you can head over to our Seniors Health Section which is full of information about medicare. All you need is your zip code and a few minutes of your time to potentially save 100s of dollars on your medicare bills.
Burglars generally spend less than seven minutes inside a victim's home, ransacking and rummaging through only the most obvious places where valuables such as jewelry, cash or family heirlooms may be stored. Diversion safes are, by design, the very least likely places that burglars will look. 
~
Choosing a home safe can often be a costly proposition, as more elaborate, professional, insurance rated safes can run thousands even hundreds of thousands of dollars. However, diversion safes typically cost less than thirty dollars. Despite their reasonable price, diversion safes are endorsed by police forces nationwide.
Investing in small and inconspicuous diversion safes can be particularly wise for anyone traveling and concerned about leaving valuables, cash, jewelry, passports etc. in hotel rooms. Diversion safes are also ideal for hiding away valuables or other treasured possessions in college or university dorm rooms, or other public living situations. Diversion safes can also come in handy in office locations, for storing important documents, data, keys or other business materials.
If you don not want to become another crime statistic, research diversion safes, the most unique crime deterrents on the market.
The most important tip for looking at diversion safes when choosing a home safe for home security, is to select a safe that fits with your lifestyle and product choices, and will easily blend in with your surroundings. Then, be sure to camouflage the safe in a suitable location. For example, if you select a diversion safe that looks like a cleaning product or toiletry item, place the safe in the bathroom cupboard or in the linen closet amidst other similar products.  
Women may wish to select a diversion safe that looks like a can of hair spray or bottle of shampoo, which can be hidden in a medicine cabinet or even on a bathroom counter. Men will want to purchase a diversion safe that appears to be a can of shaving cream, which can be added to an arrangement of products in a medicine cabinet, or a bottle of automotive oil, which can be left on a shelf in a garage or basement.  
Some of the most unique diversion safes on the market include designs that resemble flower pots, electrical outlets (to hide wall safes), soda cans, paint cans, coffee cans, coffee cups, water bottles, hard cover books, canned goods and boxed food items, bottles of cleaning products, toiletry items and even liquor bottles. 
Rather than spending a fortune on professional safes, or bank safety deposit boxes, and rather than hiding your valuables in your underwear drawer, take the time to research diversion safes. These unique, affordable diversion safes are some of the best security systems on the market. If you are researching or choosing a home safe, learn how to outsmart burglars by hiding your valuables in plain sight.
Resources:
Choosing a Burglar-resistant Safe
Choosing the right safe for your home valuables
Popular Savings Offers