Choosing a monogram
By Catalogs Editorial Staff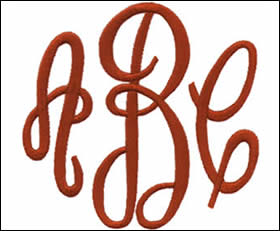 Choosing a monogram is going to be fun!
Before choosing a monogram you need to know what one is. It is a motif of two or more letters representing a person's initials. The letters are combined in an ornamental way, usually interwoven, and are used to identify personal possessions or as a logo.
The design is created by combining characters (letters) and sometimes graphical symbols which make an image. In days of yore, these designs were often used by artists and craftsman to sign their work.
Most items can be "monogrammed", by having an embroidered, engraved or stamped monogram added. Popular personalized items include clothing, monogrammed luggage, cufflinks, women's jewelry, adult and baby clothing and even a casserole carrier. No one is going to mistakenly walk off with your carrier after a get together. It's indisputable who the owner is.
Before you continue reading about the Choosing a monogram there is a special announcement we would like to share with you. Catalogs.com has negotiated special medicare rates for our vibrant community of seniors. If you are over the age of 60, you can head over to our Seniors Health Section which is full of information about medicare. All you need is your zip code and a few minutes of your time to potentially save 100s of dollars on your medicare bills.
This is an ancient practice. In the beginning, the design was a one-letter code. Eventually, it morphed into two or more letters. Years ago, a set of decorative initials was used by Christians to send covert signals to other believers.
To technically qualify as a monogram, the letters must be interwoven. For example, C.L.P. is not a monogram but once a stylistic device is implemented, incorporating the three letters to create a single symbol, it becomes one.
~
Newlyweds

Newlyweds can create a monogram from their combined initials. For example, John and Lily Robinson's would be JRL. The "R" in the center represents the surname (last name) and is larger than the letters on each side. Generally, the man's initial goes to the left (or first) and the woman's goes on the right.
Newlywed Lily Robinson wants to get stationery and new towels and her robe monogrammed. If her maiden name was Jones, her monogram grand is LRJ: Her first name, new surname and her maiden name. Again, the "R" in the center is larger than the L and J.
Some women do not keep their maiden name as their middle name after marriage. In that case, Lily Marie Jones becomes Lily Marie Robinson and her initials are LRM.
Some newlyweds decide to combine (hyphenate) their last names. Kristy Warfield marries Stephen Benner and they become Kristy Warfield-Benner and Stephen Warfield-Benner. To create a design representing the hyphenated last names, some recommend dropping the hyphen altogether in the design. The result is KWBS or SWBK, depending on whether you choose to put the woman's or man's initial first. The WB would be larger than the K and S.
Of course, if opting to keep the hyphen in the design it would be KW-BS or SW-BK, again depending on whose name comes first.
Men sometimes prefer to get a design in the first name, middle name and last name sequence. Jacob Howard Fremont's design is JHF. The "H" is not bigger than the other letters because it represents his middle name, not last name.
Others prefer putting the last name in the center, which would be JFH, in this case. The middle initial, "F," standing for the surname Fremont, would be larger than the other letters.
Create something extraordinary
An otherwise ordinary looking hoodie looks a whole lot cooler with initials emblazoned on it. When a person's initials are applied to an object in a decorative way, it makes the item so much more personal and meaningful.
Where to Begin?
There are numerous designs and colors to choose from. There is Broque, legacy, magestic, mix up, diamond, engraved, geo bracket with initial, modern circle, modern circle with border, circle script and circle seal designs, just to name a few. You can pick the font (style of lettering) that appeals most to you.
You can choose from a single initial, a single initial with dots, two staggered letters, three or four letters and from a host of other options.
It's going to be fun designing this. Get started now!
Popular Savings Offers