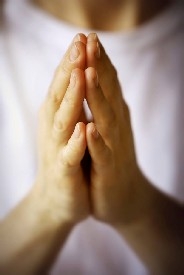 A prayer at Christmas dinner can help you remember the reason for the season
Christmas is a joyous occasion, a time to spend with family and friends, eat wonderfully delicious food, and exchange gifts. For many Christians around the world, Christmas also has a deeper meaning: the celebration of the birth of Christ. A Christmas dinner prayer is a good way to set aside some time in your Christmas festivities to remember the reason for the holiday.
There are many Christian books available with ideas for how to incorporate prayer into your Christmas celebration. Here are a few titles to get you started: "Christmas Prayer" by Marianne Williamson, "Christmas Blessings: Prayers and Poems to Celebrate the Season" by June Cotner, "Celebrate Christmas and the Beautiful Traditions of Advent" by White Stone, and "Faces at the Manger: An Advent-Christmas Sampler of Poems, Prayers, and Meditations" by J. Barrie Shepherd.
If you don't have time to head to the local library or bookstore, however, here are some well-known prayers that you could read for your Christmas dinner prayer.
A Christmas Prayer
by Robert Louis Stevenson

Loving Father, Help us remember the birth of Jesus,
that we may share in the song of the angels,
the gladness of the shepherds,
and worship of the wise men.
Close the door of hate and open the door of love all over the world.
Let kindness come with every gift and good desires with every greeting.
Deliver us from evil by the blessing which Christ brings,
and teach us to be merry with clear hearts.
May the Christmas morning make us happy to be thy children,
and Christmas evening bring us to our beds with grateful thoughts,
forgiving and forgiven, for Jesus' sake. Amen.
~

Christmas Eve Prayer
by Frank Borman, aboard the Apollo 8 space mission, 1968

Give us, O God, the vision which can see Your love in the world in spite of human failure.
Give us the faith to trust Your goodness in spite of our ignorance and weakness.
Give us the knowledge that we may continue to pray with understanding hearts.
And show us what each one of us can do to set forward the coming of the day of universal peace.

Prayer for Christmas Day
from the Lutheran Book of Prayer

Jesus, my Savior, as I stand in spirit at Thy lowly manger, I bow my knees in reverent worship of that mystery without controversy great, revealed in Thy birth in Bethlehem's stable. Here lies God manifest in the flesh. O Jesus, teach me humbly to believe what reason cannot comprehend and with childlike faith to accept this mystery which no created mind can fully understand.

At Thy humble resting place, my Redeemer, I joyfully praise Thy love and grace. Thou hast left Thy Father's throne ? for me. Thou hast taken the sins of the world upon Thyself ? for me. Thou art willing to fulfill all righteousness ? for me. Savior, I thank Thee for Thy unspeakable love, and I pray Thee, let me ever be faithful to Thee. As Thy love has drawn Thee from heaven to earth, so let Thy love draw me from earth to heaven to be Thine in time and eternity. Amen.

If you want something less formal, you could try a round-the-table form of prayer. Have each person at your Christmas dinner thank God for one thing and ask God for one blessing on the New Year. Whether you read a formal, written prayer, or just speak from your heart, your Christmas dinner prayer can be a special part of your holiday tradition.