Classic wedding reception ideas
By Catalogs Editorial Staff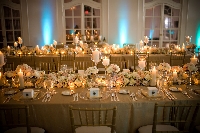 A classic wedding reception is romantic and full of tradition
There's almost nothing more beautiful than a classic wedding reception. When you think of receptions, you likely think of a romantic, flowery affair that is full of life and love. If you're planning on having a classic reception, there are a few things you should incorporate into the celebration.
This is your reception and you should do what you like and what makes you happy. Here are a few ideas for a classic reception that can make your wedding a dream come true.
Decorations
Before you continue reading about the Classic wedding reception ideas there is a special announcement we would like to share with you. Catalogs.com has negotiated special medicare rates for our vibrant community of seniors. If you are over the age of 60, you can head over to our Seniors Health Section which is full of information about medicare. All you need is your zip code and a few minutes of your time to potentially save 100s of dollars on your medicare bills.
When it comes to classic weddings, flowers are the name of the game. There's really not much that is more romantic and wedding-like than flowers. Placing a flower-filled centerpiece on each table is oh-so-gorgeous and the epitome of classic. Choose flowers that match with your wedding colors. You can also mimic the bridal bouquet in each centerpiece, as well. If you want your guests to engage in conversation while at their tables, make sure the centerpieces are short enough — or high enough — so that they can see each other.
The tables are usually set with white china, silver and crystal – don't do anything funky or too contemporary. Linens should be white or in a classic pale color palette. Black and white is also a classic and formal color combinatino.
Another classic decoration to feature at each table is the wedding favor. You can choose personalized wedding favors, such as matchbooks or playing cards that feature the bride and groom's name, or you can select a more low-key favor. For instance, a lace-covered votive candle is not only gorgeous, but is cheap and easy to make. Place a votive inside a glass candle holder. Choose a lace-like material, add some glue to the inside of it, then wrap it around the holder. Make enough so that each couple or person has one, then place them around the table. When lit they will look extremely romantic.
~
To keep things both classic and organized, you should have place settings for your guests. A nice and decorative way to do so is to lay the place cards flat on a stylish plate or similar dish, on a table. Make the cards visible when the guests first enter your reception facility. Choosing an elegant material and font for the cards makes the settings stylish and classic.
Activities
Classic wedding receptions come with standard activities. For instance, these receptions include father-of-the-bride and bride dances, groom and mother-of-the-groom dances, bridal party dances and, of course, the bride and groom dance. Another classic dance that is not only fun, but makes the bride and groom a bit of cash, too, is the apron dance. Two lines are formed and the maid of honor and best man stand in front of each line. Guests pay the maid of honor to dance with the bride and pay the best man to dance with the groom. Each dance lasts about a minute and allows the bride and groom to talk to every guest. Plus, they will have some extra money to enjoy after the wedding as a result.
Speeches and toasts from the family and bridal party are an integral part of every wedding, and a classic affair, these are usually scripted, formal and follow a specific wedding speech protocol.
Another classic activity is the throwing of the bridal bouquet. All eligible women come to the front of the reception facility. Then, the bride grabs her bouquet, turns around so that her back faces them, and tosses the bouquet behind her. It is said that the woman who catches the bouquet is the next to get married.
Similarly, the men have their own tradition, and that is catching the bride's garter belt. The eligible men come to the front of the reception facility and the groom stands in front of them, but faces away. He tosses the garter behind him and the men scramble to catch it.
Of course, the groom has to grab the garter belt first, and this is typically done in front of the crowd. The bride sits in a chair, and the groom can use his hands to retrieve the garter belt off of the bride's leg. To make things a bit more funny, however, he can crawl under the bride's skirt and remove the belt with his teeth. Whichever way the couple decides to participate in this activity is up to them ? both work equally well.
If you are going for a classic-themed wedding reception, you have to be happy with it. Choose to do what you and your partner like, and you can't go wrong. If certain aspects of a classic reception don't jive with what you want, skip them and choose what makes you happy. This is your day and you should be pleased with all of the details.
Resources:
Ezine Articles: Ideas for Planning a Vintage Wedding
Elizabeth Anne Designs: Vintage DIY Projects and Instructions
Popular Savings Offers