Collectible pocket knives
By Catalogs Editorial Staff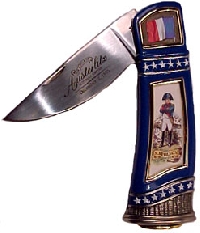 Here are some pocket knives that are highly collectible and very popular
One of the first artistic creations of the human race was the hunting knife. It served the ancient world well both as a weapon and primitive culinary aid. Many knives had blades of bone and flint that were carved with coded messages that bespoke of bravery and tribal custom. 
Today, all kinds of pocket knives flood the market place and many people collect them. Still, rare and one-of-a kind pocket knives can also be found.
What are some of the more popular collectible pocket knives?
Before you continue reading about the Collectible pocket knives there is a special announcement we would like to share with you. Catalogs.com has negotiated special medicare rates for our vibrant community of seniors. If you are over the age of 60, you can head over to our Seniors Health Section which is full of information about medicare. All you need is your zip code and a few minutes of your time to potentially save 100s of dollars on your medicare bills.
~

Collectible pocket knives are a passion for many for a myriad of reasons. For some, they are a reminder of simpler times and for others they represent a right of passage from father to son. Pocket knives are inconspicuous and can be carried around in a pocket or on a keychain. They are handcrafted and all kinds of pocket knives can be found online. Some of the most collectible pocket knives fall into the following categories.
1- Case pocket knives
Probably the most collectible pocket knives on the market today are Case pocket knives. Case knife handles are shaped by hand, using a variety of natural materials like Brazilian cattle bone, genuine India Stag, Buffalo horn, ancient Mammoth Ivory, Mother-of-Pearl, exotic hardwoods and precious stones. They are not only quality knives but also an American legend that began in 1889 when a few brothers began selling cutlery from the back of a wagon in small western New York villages.
During World War I, Case made military knives for U.S. servicemen and women including the USMC's Ka-bar knife and the V-42 combat knife for the Devil's Brigade. During the 1965 flight of the ?Molly Brown,? astronauts, Gus Grissom and John Young used special Case knives on a NASA space mission.
Some famous collectors of Case knives include: Dwight D Eisenhower, country music singer, Randy Travis and former race-car driver, Richard Petty. These knives are highly collectible because of their unique tang stamp dating system, which goes back to the late 19th century. Today, the Case Collectors Club is made up of 18,000 members, making it the largest known organized knife enthusiast group.
2- Buck pocket knives
A leading manufacturer of different styles of knives, Buck knives date back more than 100 years and were made by Kansas blacksmith, Hoyt H. Buck. At an early age, Hoyt develop a method of heat-treating the steel in hoes and other tools so that they would hold an edge longer. He transferred this knowledge to his knives, each of which he made by hand, using worn-out file blades as raw material.
In 1964, Buck introduced the first successful folding lock-blade knife and thereafter, folding lock-blade knives became synonymous with Buck knives in the public mind. It became so popular and so imitated that today a buck knife has come to mean any folding lock-blade knife.
3- Red Bone pocket knives
Some highly collectible pocket knives are known as Red Bone pocket knives. Many collectors believe that if the handle shows a slight red tint at the edge or end of the handles it is a Red Bone, but they are wrong. A genuine Red Bone pocket knife bears a deep red tint that does not vary in color and covers all sections of the handle.
4- Some other kinds of pocket knives
Due to the fact that the list is exhaustive when it comes to collectible pocket knives, here is a summation of some of the more popular patterns and styles. They include: the Whittler, Stockman, Mother-of-Pearl, Trapper, Jackknife, Muskrat, Peanut, Canoe, Toothpick, Congress, Doctors, Swing Guard and Gunstock.
Function and utility are the key elements when considering collectible pocket knives. Some knives are purely utilitarian such as the Single Blade Toothpick and Multi-Blade Stockman. These knives are perfect for backpacking trips and designed specifically for cutting twine, wood, leather, paring an apple and skinning small game.
The pocket knife is an endless delight for the collector because it is available in countless variations. This makes a finished collection virtually impossible and adds to the mystique of the quest.
Happy pocket knife hunting to all.
Popular Savings Offers