Corporate personalized gifts for associates
By Catalogs Editorial Staff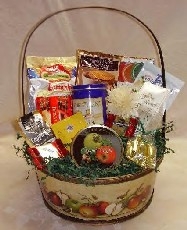 When corporate generosity is displayed, personalized gifts abound
One hand washes the other. All year long, people do business. Professionals mingle mangle around the conference table, the dinner table?and the cocktail bar at the country club. Domains overlap and the people who count upon each other throughout the year for interrelated goods and services always are on the lookout for distinctive gifts to give when needed.
A variety of occasions warrant corporate gifts
Thank-you gifts, welcome baskets and congratulatory gifts have a prominent place in the corporate dance of interdependence. Logo promotional items imprinted with company symbols, slogans or Internet addresses go far toward keeping a company name familiar?and always are well received. One could send towers of chocolates with a single item bearing the corporate logo atop the goodies. Many options exist.
Before you continue reading about the Corporate personalized gifts for associates there is a special announcement we would like to share with you. Catalogs.com has negotiated special medicare rates for our vibrant community of seniors. If you are over the age of 60, you can head over to our Seniors Health Section which is full of information about medicare. All you need is your zip code and a few minutes of your time to potentially save 100s of dollars on your medicare bills.
Most corporate personalized gifts tend to be upper shelf. The recipients usually are thrilled, for nowadays most corporate personalized gifts are constructed of high-quality materials that oftentimes mimic the look of fine leather, glass or faux just-about-anything. Classy gifts are easy to personalize for today?s printing methods, embroidery processes and silk screening procedures are highly refined.
How can spending money make sense?
The reasons for considering corporate personalized gifts are many. For instance, the owner of a manufacturing plant may feel moved to send personalized office accessories to scores of wholesalers. A car dealer might send automotive-themed gifts to dozens of loyal customers?car buyers who rarely miss a year investing in a new model. So too, executives of an advertising agency might award a few diamond watches that will help keep their top sales reps happy?and on time for appointments.
~
Think of the bestowal of corporate gifts as investments in good will. Today, there are corporate personalized gifts in many price ranges. Lavish gifts are eye-openers. But modest gifts also will be remembered by the people who receive them. The giving and the receiving are fulfilling experiences.
But another component?the lifespan of the gifts?is another factor. Corporate personalized gifts are displayed with pride in the home and the office. Gifts such as desk clocks, leather-bound journals and digital photo frames may be looked at many times a day?for a long time.
What are some cautions relating to corporate gifts?
Consider good taste. There is a fine line separating the tasteful utilization of company logos from the outright promotional glare of an overly large logo. Corporate personalized gifts are tokens of appreciation. The emphasis is on the recipients. Members of business communities set substantial stock in recognition. Therefore, some thought is needed before choosing a design to adorn personalized gifts.
Also, consider the number of colors that will be needed to attractively imprint the gift items. Corporate personalized gifts oftentimes are imprinted in up to three colors. An extra cost may be incurred when numerous colors are requested. Therefore, think about how many colors will be needed before deciding upon quantities.
What is given as gifts when money is no object?
Today?s business environment is dynamic and diverse. People like many things. When money is no object, think outside the box. Gift-wrapped, leather-covered portfolios?tastefully embossed with corporate logos?might hold sets of plane tickets to any of the nation?s best ski resorts or best beaches.
In the same vein, fine suede tote bags embroidered with a company?s logo might contain gift certificates for memberships at a lavish spa where hot-oil massages and aromatherapy sessions are must-haves. Likewise, some stylish imprinted briefcases might contain gift certificates for high-tech toys such as metal detectors, if the recipients of the gifts are adventuresome types who would like to discover hidden treasures?on their days off.
Thomas A. Edison?master inventor?had a philosophy about work. He used work as a method of exploration. Edison said, ?Opportunity is missed by most people because it is dressed in overalls and looks like work.?
Popular Savings Offers