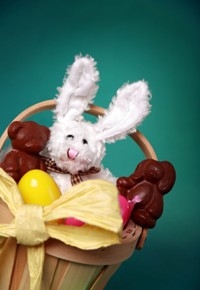 Be your own custom-basket designer.
Many of us remember being kids and waking up on Easter Sunday to a tall, store-bought basket with the huge cardboard insert. You know, the ones that put on a cheery display with bright colors, a big plastic toy and some jelly beans taped on it. These tall, pre-made versions look quite impressive and they're convenient if you're in a hurry.
Lately, however, homemade creations are becoming the trend. They can be a higher quality alternative for the same or less money than typical pre-mades. Making a beautiful basket doesn't have to be expensive. You can find cool items on clearance, at the dollar stores or at flea markets.
If you want to give someone a personalized gift they'll remember – and reuse – you'll love these easy, fun ideas for creative Easter baskets.
Easter Baskets for Children
E.B.'s Treasure
Instead of using traditional 'woven' baskets, try other containers you can build a theme around. Last year in our house, the Easter Bunny delivered hidden treasure chests for the children. They received a personalized letter from E.B. and a treasure map with their first clue to get started. This worked well because of their ages: 4 to 7.
Once they realized the baskets were somewhere, they became very excited. The hunt was on! Each subsequent clue was placed in a golden Easter egg hidden around the house (four or five clues per child). After solving their last clue, the children were delighted to find chests full of pirate loot and other goodies.
Their 'treasure chests' were unfinished wooden craft boxes (found on clearance at the hardware store). I included glitter, paint, markers, decorative papers, etc. Silver Christmas tinsel and a sprinkling of gold nuggets made shimmery grass. I added foil-wrapped chocolate coins, jelly beans, a telescope and the very important chocolate bunny. Red pirate bandanas made great bows. After they pilfered the sweet stuff, they got to decorate and store valued possessions in them. 
Our kids loved the treasure hunt, but there are endless possibilities for themes, containers and fillers – for the little ones, and the grownup sweeties you know. Everyone loves a basket of goodies, regardless of age or what they tell you! Pick up little instruments or guitar strings for the rockstar, give school supplies to a favorite teacher (they always need these), or use Candyland as a great 'middle' for your young board game enthusiast.

The best containers pull double-duty. Some of the most creative containers are both fun Easter baskets and great toys. For young kids:
    an inexpensive plastic sand pail filled with a beach shovel, sand mold and sunglasses
    a large plastic dump truck filled with an action figure, building blocks or Legos
    a princess purse or tote filled with a beaded jewelry-making kit and a plush bunny
    a small red wagon filled with bubbles, sidewalk chalk and a set of mini-balls

Green Thumb Baskets
Children love to watch things grow. Fill a colorful flower pot with seed packets, gloves, soil and growing instructions. They will enjoy nurturing a beautiful bloom long after the holiday. When I made one of these for a niece sporting a green thumb, I used moss for the grass. I planted chocolate lollipops and Easter eggs along with the seeds, and used a garden trowel to hold everything up.
~
Easter Baskets for Teenagers
If you're creating a basket for an older child or teenager, go with their interests:
    a colorful beach bag with sunscreen, the latest teen novel, and a mask/snorkel set or oversized beach towel
    a popcorn bucket filled with popcorn, boxes of candy and a movie or game rental gift card (this theme goes over well with both older kids and adults)
    a makeup box with perfume and makeup samples, body lotion and a makeup 'how-to' guidebook; pastel bath puffs make pretty grass

Easter Baskets for Adults
For adults, fill a basket with things they like but might not buy for themselves.
    pampering spa products with fuzzy slippers and relaxation music
    Pilates or yoga starter set
    sporting equipment, like golf balls (real and candy versions), tees and a sports bloopers DVD
    stationery, crafts or scrapbook supplies in a cute tote
    gourmet coffee, tea and organic food items with a handwritten favorite family recipe
    romantic picnic basket with chocolate covered strawberries, a CD of love songs, wine and a checkered blanket

More Easter Basket Tips
As you plan your creative Easter baskets, keep a heads up for little toys, trinkets and items on sale. And take advantage of the unique items at the dollar store. They carry many things you can't find in a regular store.
To offset some of the sugar overload, mix it up a bit with candy alternatives. Get creative with homemade treats, fruit rollups, sugar-free candies, animal crackers, or 100-calorie snack packs. And have fun! It will show in your baskets and your loved ones will appreciate the special attention.