Creative ways to decorate with cowhide
By Catalogs Editorial Staff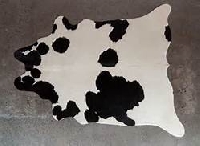 Find some creative ways to decorate with cowhide for a Southwestern look
Cowhide, the most frequently used leather, is sturdy, robust, comfortable and affordable because there are vast amounts obtainable compared with other types of leather.
Uses for the hide include creating shoes, bags, clothing, home furnishings, saddles, gloves, suitcases, boots, wristbands, vests and jewelry tags and strings.
Let's Decorate!
Before you continue reading about the Creative ways to decorate with cowhide there is a special announcement we would like to share with you. Catalogs.com has negotiated special medicare rates for our vibrant community of seniors. If you are over the age of 60, you can head over to our Seniors Health Section which is full of information about medicare. All you need is your zip code and a few minutes of your time to potentially save 100s of dollars on your medicare bills.
Creative ways to decorate with cowhide including using it as a rug, which many homeowners like to do especially when the hide comes complete with hair. Use it as a couch throw, wall hanging, cowhide pillow or table or ottomon cover. 
It is good upholstery fabric because it doesn't stretch once it is secured. Use it to cover a chair or footstool. Let your imagination go wild!
A small pelt can be placed on top of wall to wall carpeting establishing a specific area in a large room, such as the reading spot.
Cowboy Chic
Some like the notion of 'cowboy chic' for their decor, enjoying the use of pelts in their residence. The hide adds form, texture, warmth and color to a space. The overall pelt pattern is generally simplistic so it works well in most rooms. It is not in competition with stronger decorative elements. 
Keep in mind, not every pelt is printed or naturally patterned. You may find you prefer one in a solid color. 
~
Color

The pelts come in a variety of colors including black and white, brindle mixes, brindle and brown. Those not wanting natural colors can have the skin dyed by the manufactuer. Moreover, patterns can be made on the cowhide including tiger or zebra prints if that is your desire. Some choose to dye the pelt to copycat endangered species, which protects those animals in jeopardy. The cattle is slaughtered for its meat and not solely for its skin. 

Options 
Pelts can be cut or burned to create unusual designs. When pelts are tanned this results in a tough yet smooth leather or, conversely, in a soft, fuzzy leather. You will have choices when shopping for a hide. 

Patchwork 
Several pieces of pelt patched together create blankets or seat covers. Traditional Native American tee-pees were crafted out of such pelts. Patching together dissimilar colored hides results in a many-hued piece. 

Benefits of Cow Leather
It is waterproof. That's why cowboy boots are made from this leather. The cowboy's feet are protected from water and cold when the boot is suitably insulated. The leather is impervious to water, abrasion and heat and is used to create jackets for police officers and motorcyclists. 
It is also resistant to stains and dirt and easily cleaned. If you spill something on the pelt use a damp cloth to clean away the stain. The material can also be cleaned using steam or vacuuming.
The ultimate durability of the hide is determined by the leather grade or thickness.
Acquiring the Pelt

After slaughtering, the skin is removed, salted and systematized according to color and shape and then taken to a tannery. Tanning makes the pelt more hard-wearing, softer and impervious to odor.
The hide is cleaned. Fat and meat are removed. Hair is shaved before the pelt undergoes drying although sometimes hair is left intact.
The skin is stretched flat, allowing the pelt to dry completely. When thoroughly dried, the hide is rubbed with oil obtained from the cow's various body parts, including the brain. When the hair remains on the pelt the hair side is not tanned with oils. 
After the oils dry, the pelt is stretched by machine or by hand. This is 'tanning.' 
Separation of the hides is based on quality. When a piece is damaged or torn it is used to create a collage or patchwork product because it cannot be used as a whole.
Popular Savings Offers