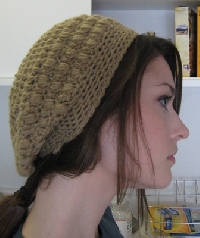 Inspiring crochet craft patterns to ignite your imagination
If you love to crochet, then you already know about the incredible assortment of crochet craft patterns and free crochet designs available on the internet.  Many of the patterns can be easily downloaded and printed, an aspect which make the selection process so much easier than searching through books and craft stores. 
If you are seeking crochet craft patterns, such as trendy new designs, vintage patterns, challenging projects, or easy patterns for beginners who want to learn to crochet, be sure to visit the extensive online community of crochet resources.  If you simply need some fresh, inspiring ideas… or a little motivation for your next crochet project, here is a helpful list of crochet craft patterns to ignite your imagination!
Then all you have to do is gather up your crochet hooks and get started making something pretty.
V Neck Cardigan:  If you are seeking wearable and fashionable crochet patterns, this style of sweater is a perfect project choice. If you're advanced, select a pattern with complementary or coordinating stitches to add more pizzaz to a classic design.
Crocheted Teddy:  Stuffed animals, especially teddy bears are beloved companions for little ones.  If there is a child's birthday, holiday or other occasion approaching, consider these creative, colorful crochet craft patterns animals and teddy bears.

Water Lilies Coverlet: Great works of art can be a great place to find inspiration for your crochet projects. For instance, Claude Monet's famous water lilies painting is a wonderful place to start.  Create blocks of pastel colored water lilies,  then float them gracefully on a pastel blue background.
Ring Bearer's Pillow:  Do you have an upcoming wedding invitation?  Consider creating a small, delicate, lacy pillow as a wedding gift.  Be sure to inquire about the particular wedding colors, as color coordinating ribbons, trim or silk flowers may be added to this ring bearer's pillow, sure to become a treasured family keepsake.  
Barbie Wardrobe:  If you have kids or grand kids, you are well aware that dolls and action figures can be special playmates.  Surprise your little one with a new wardrobe collection for her favorite Barbie doll. 
Crochet Slippers:  What could be cozier in fall or winter, than slipping into a pair of brightly colored crochet slippers.  Patterns are available online or in most needlework catalogs in an assortment of sizes. 
Heirloom Lace Baby Afghan:  An ideal gift for newborns, christenings, or parents-to-be, a vintage crochet lace pattern features an ornate shell pattern and detailed edging. Do make sure you have the skills needed to handle complex patterns and stitches before you select a lace pattern.
Crochet Flip Flop Bands:  During summertime, flip flops are one of the most popular styles of footwear, and fanciful, designer flip flop brands have become all the rage.  Transform a plain pair of flip flops into unusual, personalized, and colorful footwear fashion.  Your crochet-trimmed flip flops are sure to become a conversation piece.
Today, experienced crocheters who have favorite tried and true crochet craft patterns, or who have designed their own original patterns, are able to easily share patterns, photos of their creations, as well as tips and feedback with the online crochet community.