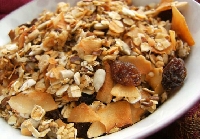 Crunchy granola recipes will keep you full and satisfied
Granola is one of those snacks that are cheap enough to buy off the shelf, but it?s also easy to make in large batches. The advantage of making your own is that it?s guaranteed to taste better because the ingredients will be better quality. Homemade batches are also healthier and don't contain ingredients you can?t pronounce.
All crunchy granola recipes basically have the same components with slight variations on how high and how long the oats and nuts need to be toasted to get them nice and crisp. This guide will help you craft your own special batch.
There are over 200,000 such recipe results from a quick Google search, but a helpful tool is the new Google sidebar that shows up on the right. Readers on a diet or short on time can use the tool to sort the recipes by ingredients, cook time or by estimated calories per serving.
~
Here is a quick start to making a healthy, hearty breakfast or snack treat:
Basic Ingredients
3 cups rolled oats (not instant)
1 cup nuts
1 teaspoon seasoning
1 pinch salt
1/4 cup maple syrup
1/2 cup dried fruit
Baking
Mix all of your ingredients, except the fruit, in a bowl, and then spread them on a baking pan. Bake the mix at 300 degrees for 30 minutes, stirring every 10 minutes. Pay attention to the color of the oats and nuts as they get crunchier as they brown, but be careful not to burn them.
Cool and Store
Once the nuts and oats are a deep, toasted brown, pull the batch from the over and stir in the fruit. Allow to cool completely, then pour the snack into and air tight container and store it in the refrigerator.
Use this recipe as a guideline for any variation of ingredients you want to try. Here are a few tasty suggestions for each component:
Grains: Rolled oats are most commonly used, but you may want to experiment with other grains like flakes of rye, bran flakes or corn flakes or Chex for a gluten-free version.
Nuts: Nuts are an important component because they add the good fats and much of the satisfying crunch. Almonds are an extremely healthy choice and pecans are wildly delicious ? buy them shelled in pieces, halves or whole. Cashews, walnuts and pistachios are also popular choices.
Seeds: Seeds deserve credit for delivering the crunch and vitamins and minerals. A blend of sunflower seeds, sesame seeds, pumpkin seeds and flax seeds also add variety and texture.
Seasoning : Depending on your seasoning, the same basic ingredients can have an Asian, tropical or sweet flavor. Cinnamon is healthy and adds a pleasant contrast to the sweetness of the toasted oats and nuts. Pair it with a touch of vanilla extract, apple cider, nutmeg, cardamom, crystallized ginger or shavings of orange zest for a unique twist.
Sweet:  The sweet component helps to bind clusters of the mixture together. Maple and honey are common choices. If you prefer agave, use 1/3 the recommended amount as it?s naturally much sweeter. If you?re making a batch for a party and want a little extra boost, add in chocolate chips, peanut butter chips, yogurt chips or a handful of shredded coconut.
Fruit: Dried fruit often becomes the star of the show. It adds pleasing colors and textures, and gives you a burst of pure flavor. Fruit also goes really well with almost any combination of seasoning you can come up with. To have plenty of variety, buy several types of dried fruit in bulk, including cranberries, dates, blueberries, raisins, banana chips, mango and strawberries, to name a few.
Crunchy granola recipes are perfect for kids, hikers and anyone trying to live healthier without feeling deprived. Even with a simple snack like this, less is more. So if you want to try all of the variations suggested, try to be selective and choose just one or two of each component at a time.
You can also halve the basic recipe and make two small batches with different ingredients, one salty and one sweet.
Reference:
Photo Credit: Breakfast.Food.com