Snacks to pack for day campers
By Catalogs Editorial Staff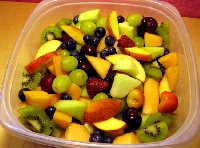 Summertime Snacks: Creative, Nutritious and Tasty Treats for Kids
Children adore summertime because it is the season for fun, freedom, adventures, vacations, summer camps, day camps and outdoor activities. Parents however, are left with the challenge of finding entertaining, educational programs, and chauffeuring their kids to and from swimming lessons, sleepovers, and day camps. Many parents are challenged to feed busy kids, and wonder what snacks to pack for day campers.
In the midst of all the fun, sunshine and energy, and shifting summertime schedules, many parents find it quite a chore to come up with healthy and tasty ideas for summertime snacks.
Packing lunches and fixing day camp snacks is certainly not something that moms and dads want to be rushing to accomplish at the last minute. However, with just a bit of planning before your next trip to the grocery store, it is possible to come up with delicious and nutritious snacks that will sustain active children through the whirlwind of those long and exhilarating summer days. 
Before you continue reading about the Snacks to pack for day campers there is a special announcement we would like to share with you. Catalogs.com has negotiated special medicare rates for our vibrant community of seniors. If you are over the age of 60, you can head over to our Seniors Health Section which is full of information about medicare. All you need is your zip code and a few minutes of your time to potentially save 100s of dollars on your medicare bills.
Here are some creative, healthy and simple recipes for day camp snacks, tested and approved by busy moms and dads who are also striving to stretch pennies while feeding those kids!
~

Simple, Nutritious and Delicious Ideas for Summer Day Camp Snacks:

Fresh Fruit:
Summertime is the season for fruit. You simply can't beat those ripe, organic, locally grown fruits.  Peaches, plums, nectarines are examples of ideal summertime tree fruits. Melons and berries are also particularly sweet and delicious during the summertime months. Or, mix it up and surprise your child with a Tupperware container filled with fruit salad. (Don't forget to pack a fork!)  You may wish to include strawberries, blueberries, raspberries, cherries, grapes, watermelon slices, honeydew slices, peaches, pears, plums or oranges. 
Raw Veggies and Peanut Butter:
 
Fill a small Tupperware container with delicious condiments such as peanut butter, honey or almond butter. Slice up carrot sticks or celery and place those veggies into a separate zip-lock baggie. Kids will love dipping raw veggies into their favorite condiments. Before you send the peanut butter, make a point of asking whether peanut butter and nut products are permissible, as some children suffer from severe nut allergies.
G.O.R.P.:
Gorp is a classic snack that kids just love. Gorp is an excellent choice in snacks to pack for day campers.
What does G.O.R.P. Stand for?  Good old raisins and peanuts of course!  Gorp is also know as trail mix, snack mix… and even packaged as Chex Mix by cereal companies. It is easy to create your own G.O.R.P. mixture right in your own kitchen. 
Fill a large zip-closure bag with a combination of dry cereals such as Chex, Cheerios, Life, Granola or Kix. Small Pretzels can also be added. Peanuts, almonds, other nuts, and dried fruit items such as raisins, dried cranberries, cherries, apples or bananas are a must! Kids certainly burn through energy! It is okay to supplement your G.O.R.P. Mix (and satisfy your child's sweet tooth) by including some m&m's or chocolate chips.

Important Issues to Consider When Packing Day Camp Snacks for Kids:
During the warm summer months, it is particularly important to select day camp snacks that won't spoil or go bad if left in the sun for to long. You just never know where a kid might leave a backpack, and many day camps do not offer the option of refrigeration for snacks. Avoid packing snacks that include cheeses, dairy products, meats, eggs or condiments such as mayonnaise.  
If you do plan to send your child off to day camp with a snack or a lunch that could spoil, be sure to pack it in a waterproof lunch box or insulated lunch bag that includes an ice pack.  
Kids can be forgetful. Help your child to hold on to his or her own lunch box, lunch bag or thermos by inscribing the child's name or initials onto the items using a waterproof marker or sharpie pen.  This will help to ensure that any lost or misplaced necessities eventually get returned to the rightful owner.
Popular Savings Offers