Daycare learning tips
By Catalogs Editorial Staff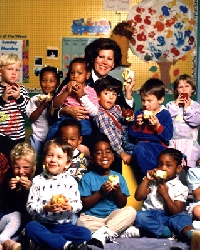 Here are some daycare learning tips
Daycare learning tips are not written down in any book and you as a responsible parent must sort out the daycare center wheat from the chaff, so to speak. Choosing the proper daycare center for your child and preparing your child for the away-from-home experience are vitally important to social and emotional growth. The right place will nurture your child and help him or her develop skills while also having fun. Remember that
music and movement tools and learning
should always comprise an important part of the curriculum of any daycare center worth its salt.
Many daycare centers are exceptionally good and others are, in plain English, bad. You must research all the possibilities when learning about them. Ask your friends, family, doctors, and referral agencies for daycare centers they would recommend for their own children and grandchildren. A personal reference is far better than any name you will find on the Internet or in the phone book. When you are doing your research, keep in mind the things that are important; namely, accreditation, reputation, preschool curriculum and location.
What are some important daycare learning tips every parent should know?
Before you continue reading about the Daycare learning tips there is a special announcement we would like to share with you. Catalogs.com has negotiated special medicare rates for our vibrant community of seniors. If you are over the age of 60, you can head over to our Seniors Health Section which is full of information about medicare. All you need is your zip code and a few minutes of your time to potentially save 100s of dollars on your medicare bills.
1- Think about how you will carefully ease your child into daycare
You need to make your child feel more secure about leaving you and entering daycare. Start preparations well in advance of the day it is all to happen. Reassure your children that you will always be there to pick them up and take them home at the end of the day. Be patient and understanding and tell your child what to expect in the new environment.
Have a positive outlook when you talk to your child and it will rub off. Talk about all the fun toys to play with and all the friendly people they can meet. This will make the child's first days at daycare much easier for both of you. If possible, send your child to the center for only a few hours at first, gradually increasing the time spent there.
Make drop off time a happy time. Always keep your voice happy. Infants and small children particularly tune into a parent?s face. In many daycares and preschools you can stay for a minute until your child is settled, although staying is not always the right thing to do.
2- Choose the right daycare facility for your child
Understand the needs of your child and focus on finding a day care facility that can cater to them. Do not always opt for the one that is cheapest or closest to your home or workplace. Take time to make a decision and make sure it is based on a daycare center with a safe environment with first-aid equipment on hand and trustworthy people.
Take you child to the center for a visit. Observe how your child acts in the environment and around the teachers. Does your child seem comfortable? Do you think your child would be happy at the center?
3- Good learning curriculum and a variety of activities
Does the center provide an atmosphere for learning? This is most important as good daycare centers provide a mix of activities that will teach different skills. Effective daycare learning tips include projects that lead to creativity, storytelling, dancing, and singing. All of these help the child learn instead of just playing all day. This also allows for socialization with other children and the chance to learn about their individual bodies and their surroundings.
Effective daycare learning care tips must reflect structure. There should be many activities for the children to participate in and parents should know what their child is doing every day of the week. An indication that a daycare center has a well thought out preschool curriculum includes activities surrounding a weekly or monthly theme. This creates consistency for the children, and can make it easier to plan.
~
Daycare learning tips are guidelines for selecting the right daycare center for your child and for making sure the curriculum offered aids in that child?s social and emotional growth. Much more than preparation for ABC and such, the proper daycare facility can do wonders for your child.
Popular Savings Offers