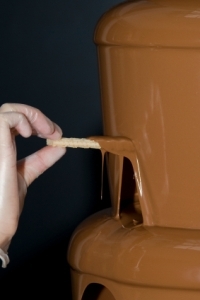 These delicious chocolates are sure to please.
Slide your tongue beneath a fragrant wafer of chocolate. So you feel joy? Americans each year consume an average of more than 12 pounds of chocolate, along with 12 more pounds of various other sugary candies.
Chocolate's sweet heritage of delectability harkens back to the ancient civilizations of the Aztecs and Maya. Today, delicious chocolates are relished as an anytime indulgence and a source of quick energy. Chocolate makes any picnic a party and any modest gift sublime.
Chocolate makes people smile. Dark chocolate, milk chocolate and white chocolate products becon to salivating aficionados everywhere. And when chocolates are presented in an unusual way, the smile turns into a grin.
Gifts featuring chocolate are perfect for all kinds of occasions. There are ways to incorporate chocolates into picnic basket lunches, graduation parties and school or college events. A guest who brings something made with chocolate always is invited back. And a hostess or host who is wise enough to include chocolate on the menu is sure to have the celebration reported upon later with endless praise.
Chocolate Fountains
Nowadays, one can delight guests at a wedding reception, dinner party or any other festive occasion by arranging for the rental or purchase of a chocolate fountain. The fountain machine generates a silky cascade of melted chocolate that gently percolates upward through a central tube from a heated well at the bottom of a decorative vessel. A pumping mechanism hidden in its core is the key to the motion. In operation, the display resembles a waterfall of chocolate which flows over a set of tiers to a receptacle below.
The fountain usually is surrounded by trays or dishes of delicious items that guests dip into the velvety rivulets. Among the favorites: thin slices of fresh oranges, plump whole strawberries, crispy potato chips, marshmallows and pretzels.
Chocolate Fondues
Another way to sweeten any gathering is to offer guests a chance to make their own chocolate fondue. Various manufacturers offer compact, attractive fondue pots made especially for melting chocolate or for use in various candy-making activities. These specialty pots have temperature controls which make for a perfect melt. In addition, there usually are included in the purchase a set of at least six slender fondue forks. Guests dip their choice of treats and find an added attraction in rolling the creation in coconut or powdered sugar.
Chocolate fondue also can be made in the crock-type pots found in many kitchens. In fact, those types of crock pots frequently hold a more ample quantity of melted chocolate. Use a slotted spoon for dipping bite-sized clumps of sugared coconut and for dipping cashews or peanuts. In a pinch, wooden skewers or metal shish-kebob sticks make dandy substitutes for fondue forks. Freshly dipped marshmallows rolled in nuts or crushed peppermints are likely to cause an excess of delight.
~
Novelty Chocolates
When there is a call for delicious chocolates to be a part of a gift that's fun and a bit out of the ordinary, there are many choices. It's not hard to find online sources for message-inscribed chocolate plaques and chocolate inscribed with one's business card or astrology sign. Other sources offer delicious chocolates molded into sports cars, motorcycles, golf balls and workshop tools such as hammers and screw drivers.
One popular chocolate candy, whose maker proclaims it melts in the mouth and not in the hands, can be imprinted with a slogan or message; the text is confined to two lines that accommodate up to eight characters on each line. Other merchants and supply houses simply appeal to shock value and offer the public solid bars of chocolate weighing up to five pounds or more.
Chocolate for Health
Health-conscious chocolate lovers are enjoying their snacks more than ever as experts reveal apparent benefits inherent in the silky treat. Mostly everyone agrees that overindulgence of any edible is something to be avoided but it seems chocolate may indeed have some health benefits. Some of its compounds display antioxidant properties. Its energy boost may help combat chronic fatigue. Some studies indicate that eating dark chocolate may help lower high blood pressure. Other studies point to ingesting chocolate as a way to help the brain release endorphins, which act as stress relievers and pain relievers.
Folks who adhere to a healthy lifestyle that purposely includes generous dollops of delicious chocolates can find a wealth of retailers specializing in certified organic chocolate, a product guaranteed to have no artificial flavors or preservatives. Life is sweet. Chocolate makes it sweeter.