History of Dell computer company
By Catalogs Editorial Staff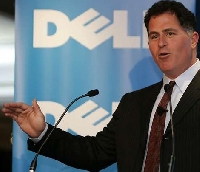 Understanding the success of Dell computer company: a helpful timeline
Dell computer company history dates back to May of 1984, when Michael Dell, a freshman pre-med student at the University of Texas in Austin, began selling custom-built personal computers out of his off-campus dormitory room.  
Michael Dell purchased computer parts from wholesale distributors, assembled them into clones of popular IBM computers, then sold these computers via mail order at highly competitive prices. 
By selling computers directly to consumers at competitive prices, Michael Dell eliminated the need for retailers to serve as middle-men. This process, known as a direct business model, sparked the fast growth of the Dell computer company.
Before you continue reading about the History of Dell computer company there is a special announcement we would like to share with you. Catalogs.com has negotiated special medicare rates for our vibrant community of seniors. If you are over the age of 60, you can head over to our Seniors Health Section which is full of information about medicare. All you need is your zip code and a few minutes of your time to potentially save 100s of dollars on your medicare bills.
The young entrepreneur soon realized extraordinary success; less than a year after launching his small business concept, Dell was grossing a monthly income of $80,000. Surprised and overwhelmed by the instant success, Dell decided to drop out of school and incorporate his business.
Ironically, the incredible financial success achieved so early in the time-line of the Dell computer company history actually served as one the biggest obstacles. The biggest challenges the company faced were keeping up with the increasing demand for Dell computers, laptops and accessories, while keeping overhead low.
~
Michael Dell's visionary leadership and business strategy guided the young computer company to change with the times and cater directly to the unique, needs and demands of consumers. One of the most innovative ventures undertaken early in the Dell computer company history was the creation of a national customer support center that offered maintenance, trouble shooting, servicing and repair for all Dell products. At the time, no other computer companies offered such customized, responsive, customer-oriented product services.
Michael Dell's computer company was originally named PCs Limited, but changed its name to Dell Computer Corporation in 1988. Also in 1988, the Dell company went public, selling stock market shares for $8.50 a piece.
In 1992 the Dell Computer Corporation made Fortune Magazine's ranking of the top 500 corporations. At the time of this milestone, Michael Dell was only 27 years old. Today, Michael Dell boasts a net worth of nearly 14 billion dollars, and a status as one of the richest people in the world. Dell employs more than 77,000 people across the globe.
In 2007 items from the Dell computer company history were celebrated as national treasures when Dell Inc. donated a collection of original computers and materials to the Smithsonian National Museum of American History.  
Today, Dell offers a complete line of desktop and notebook PCs, network servers, printers, data storage systems, projectors, HD televisions, home theater systems, mobile phones, smart phones, cameras, and a vast array of technology accessories. In addition, Dell markets third-party hardware and software, and provides services such as computer consulting, support, and training.
What is in store for the future of Dell? Looking further into the future, CEO Michael Dell strives to lead environmental initiatives in technology, and eventually become the most ?green? IT company on the planet. In 1992, Dell created and successfully marketed the world's first fully recyclable PC computer. In 2006 Dell became the first computer company to offer free recycling of its products to consumers scattered in every nation around the world ? with no exceptions.
Dell computer company history has evolved in unprecedented and unexpected ways; and still continues to evolve. However, the one element that has remained a constant through out the time line is Dell's mission is to be the world's most successful computer company delivering the best customer service and customer experience.
Resources:
About Dell
Hoovers: Dell Inc.
Popular Savings Offers