Designing a playground
By Catalogs Editorial Staff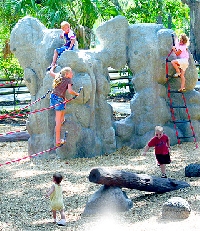 Some things about playground design that are important to understand
The key to designing a playground is to make the ultimate goal one in which the new space will be fun and filled with
age-appropriate equipment
that is safe for children. A playground is not an isolated structure; to kids it morphs into a fortress, a jungle, a pirate ship or a racetrack. Playgrounds are meant to dazzle the imagination and transport children to all the magical places of their time and realm.
Experts in child development understand that designing a playground means to create a single, integrated space where children can embrace different learning activities and develop a broad range of physical, emotional, and social skills. These ideas must be combined and integrated into a place that kids will love and will nurture their social development. This is the quintessential fact about designing a playground.
~

What are some concepts you should understand when designing a playground?
Before you continue reading about the Designing a playground there is a special announcement we would like to share with you. Catalogs.com has negotiated special medicare rates for our vibrant community of seniors. If you are over the age of 60, you can head over to our Seniors Health Section which is full of information about medicare. All you need is your zip code and a few minutes of your time to potentially save 100s of dollars on your medicare bills.
1- Value of free play
Children need to have their own experiences in order to develop as human beings. This means allowing them to make choices. Kids become spontaneous and creative when they play together without adult intervention and much of the chosen equipment, such as the play slide, promotes this spontaneity. The power of ?pretend? leads to happy and free expression that only children (and fine actors) can appreciate and muster. Playgrounds promote the concept of free play and help to build social skills, confidence, and self-esteem.
 2- Understanding what children desire
Know what kids want and what will delight them when designing a playground, especially a theme playground. You have to look at things from a child?s perspective. Read what others have written about it and understand which pieces of equipment develop which specific skills. For example, rockers increase balance, swings develop balance and coordination and horizontal (overhead) ladders build upper body strength and coordination. Due to the fact that each piece will be appropriate for a certain age group, you will have to buy an assortment geared to the grades that are being served. When designing a playground, you will also have to make decisions about size, safety, and cost.
3– Let children be a part of the designing process
Why not find out which equipment the children themselves will enjoy? It is not uncommon to see pieces of equipment on a playground that seemed exciting to the adults who bought it and yet get little attention from kids. Check out KaBOOM, the non-profit organization that has been involved in the creation of more than 400 playgrounds and the renovation of 1,500 more. This organization before designing a playground, asks kids to draw pictures of what they want. While many of the ideas are too far out, often some of the things they come up can be integrated into a playground design.
In the words of Kate Becker, national director of project management at KaBOOM:
?It?s interesting how you can ?find themes. Sometimes they come from what the area doesn?t have. Nearby parks might not have swings, for instance, or slides. Kids often include those in their drawings. Color themes are common, too, and KaBOOM! incorporates them into the playground as well. The process is not a gimmick; it really works. I think it leads to more creative designs, a playground that is used more, and a place that?s going to be vandalized less.?
The main issue in designing a playground is to provide challenging and fun activities while also insuring the safety of the children using the space. Remember that children go to playgrounds to play.
Fun is that elusive quality that must be nurtured in our children.
And while you are at it? Maybe you would like to try a run with your child on that Jungle Gym?
 Bring some band-aids.
Popular Savings Offers