Designing your bathroom for aging-in-place
By Catalogs Editorial Staff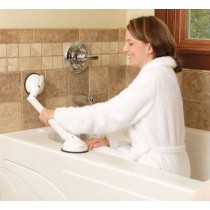 Design bathroom ideas to help you stay at home longer
More and more often, people are choosing to age-in-place. That is, they want to stay in their homes as long as possible and would prefer to never have to move out due to age related issues. The reality of it is that many homes simply weren?t designed with this idea in mind. Split level and multi-story homes rarely have a full bathroom on the main level. There are however, many options for modifying your existing bathroom space so you can age-in-place. 
Maneuverability
Since you?re modifying your own residential bathroom, you?re not required to follow the stringent rules of the Americans with Disabilities Act (ADA). You want an area that is safe and easy to access. This can mean widening doorways to a full 36 inches wide, which will accommodate wheelchair widths.
Before you continue reading about the Designing your bathroom for aging-in-place there is a special announcement we would like to share with you. Catalogs.com has negotiated special medicare rates for our vibrant community of seniors. If you are over the age of 60, you can head over to our Seniors Health Section which is full of information about medicare. All you need is your zip code and a few minutes of your time to potentially save 100s of dollars on your medicare bills.
Another idea to keep in mind here are the thresholds or transitions from the hall into the bathroom. By eliminating them, there are fewer hazards to trip on or have to push a wheelchair over.
Showers
Curb-less showers are great for those in wheelchairs or on crutches. No curbs mean nothing to trip over or get in the way when showering. Grab bars, also known as shower rails, should also be installed. Bars that get mounted directly to existing studwork are the strongest and can handle the most weight. If you aren?t able to attach to studs, grab bars that have suction cup mounts take advantage of modern suction cup technology for a firm and reliable option. For added peace of mind, some suction cups include indicators to let you know if the connection is good or not.
~
Sink and vanity
Consider replacing that standard sink and vanity with a countertop that has two sinks at different heights. This leaves open space under the counter and gives better wheelchair access. The higher sink is perfect for those who can walk but may have a more difficult time bending over. You will lose some storage space under the sink but can build storage space into the walls at a convenient height to compensate. For instance, sturdy shelves by the toilet can hold personal items as well as be a natural place to help push up into a standing position.
Toilet
Go for higher toilets that make sitting and standing back up a breeze. Often marketed as ?comfort height?, these options are great for seniors. If replacing the toilet is not an option, you can add a height extender, which raises a standard height toilet. These are easily removed when not in use and might be perfect for the family that has both an aging parent and a child that is being potty trained.
Bathtubs
Sometimes not having a bathtub isn?t an option. To help with this issue, there are handles that fit to the edge of the tub. These provide excellent stability when stepping into and out of the tub. Additional bars in the tub can help with both standing up from a sitting position and give an emergency hand-hold to assist with balance. There are also seats that help turn the bath into a seated shower area. The seat rests on the edges of the tub and often have legs that sit on the bottom of the tub. A hand-held shower head is also very handy when mobility is limited.
Lighting
Install lights on the sides of mirrors or in sconces at window height in the room. These kinds of lights are easier on the eyes and glare less than overhead lights. Night lights are an excellent addition, too. Rocker style switches let those with limited motor skills turn lights on and off with a gentle touch.
The National Association of Home Builders (NAHB) offers a special certification for aging-in-place contractors. These Certified Aging-In-Place Specialists understand the unique needs facing seniors and others with mobility issues. It?s a good idea to get at least three bids on the project, not only to get the best price for your needs, but also to hear their ideas based on experience.
Popular Savings Offers