Different candles for different spaces
By Catalogs Editorial Staff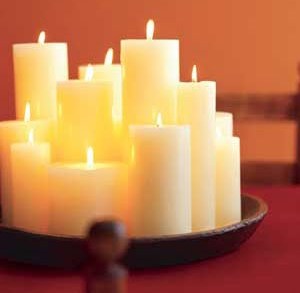 Using different candles for different spaces is an affordable way to decorate
You are on a tight budget but are determined to throw a party for your friends, who just announced their engagement. You want to decorate the inside of your home as well as your backyard but your funds are limited. Don't despair. Use candles, which create mood and beautify the surroundings.
Glims, another word for candle, are affordable, fragrant and long-lasting. You can reuse them at future soirees. There are different candles for different spaces.
If you are lucky enough to have a water feature outside — a bird bath, small fountain, a pond or swimming pool — put floating shapes in the water. This is a chic way of decorating the outdoors, as well as providing a lighting source.
Before you continue reading about the Different candles for different spaces there is a special announcement we would like to share with you. Catalogs.com has negotiated special medicare rates for our vibrant community of seniors. If you are over the age of 60, you can head over to our Seniors Health Section which is full of information about medicare. All you need is your zip code and a few minutes of your time to potentially save 100s of dollars on your medicare bills.
Floating torches come in different designs, styles, colors, sizes and shapes. Your guests will be delighted when they see them flickering in the water.
~
Put small candles in glass jars, such as Mason jars or a smaller version thereof. Tie raffia around the jar's neck. Use wire to hang the jars from tree branches. This is a really cool look.
Place torches along the outdoor steps or along a pathway as well as at the front of your home. This looks charming and inviting. The torches provide lighting so people don't trip and fall as well as show off yard features, such as your herb garden or the wicker furniture on your front porch.
Use tall tapers or short fat candles on the inside and outside tables. Some stand alone while others can be placed in glass or decorative jars.
Incorporate ball-shaped candles into the table setting. They are round and available in a multitude of colors. Mixing up sizes and shapes creates visual interest.
Note: You may prefer using unscented ones on the table because you don't want the scent to compete with the scent and flavor of the food.
Try beeswax candles, made from pure, natural beeswax. They emit a mild honey fragrance and are available in a variety of styles, including double spiral tapers, which are unusual looking.
Highly fragrant gel torches set in glass jars maintain their scent because they are blended with quality wax, prompting them to burn for a long time and smell good the entire time. This is a good choice for both outdoors and in.
Stock up on votives. They're small, look great in glass holders and are the perfect accent for your dinner table or any area in your home or yard you want to accentuates. Votives liquify so they should always be put in a container.
A tip: Put a little bit of water in the glass jar before putting the votive into the container. When you remove the votive it slides out easily. It isn't stuck to the glass, requiring you to dig it out.
In the house, put some tapers on your fireplace mantle and a mixture of styles and colors on the coffee table. Arrange a variety of votives on the serving table. The bathroom is an ideal place for votives in glass jars. The scent keeps the room smelling good.
If you are celebrating an occasion, use party tapers, which complement the theme of the event.
When the sun sets, the outdoor candlelit table looks magnificent. There is something very romantic and charming about twinkling glims, especially under the summer moon.

Use safety precautions
Whenever there is an open flame you must be vigilant about safety. Do not leave children alone with burning candles. Do not allow children access to lighters or matches. Frequently check to make sure there isn't a problem. Do not put a flame near curtains. Blow out glims before going to bed or leaving the house. Have a fire extinguisher on hand and smoke alarms. Every home needs to be equipped with these safety items.
Popular Savings Offers