How to design a dramatic home entry
By Catalogs Editorial Staff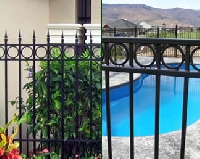 Gates, path lights, landscaping and creativity create a dramatic home entry
There are actually two main entries into a home. The first entry is through the front gate and up the drive, or walkway, which is the exterior entry. The second main entry is through the front door and into the interior of the home. Of course, there are back doors and side entries as well.
DON?T OVERLOOK THE ENTRYWAYS
In fact, think of all the areas where there are literal entryways that should, ideally, be landscaped to add dramatic flair to the property: Entrances to the flower garden, the vegetable garden, a practical greenhouse, the patio or the pool. Each of these entrances can be a show stopper if done properly.
Before you continue reading about the How to design a dramatic home entry there is a special announcement we would like to share with you. Catalogs.com has negotiated special medicare rates for our vibrant community of seniors. If you are over the age of 60, you can head over to our Seniors Health Section which is full of information about medicare. All you need is your zip code and a few minutes of your time to potentially save 100s of dollars on your medicare bills.
In a best case scenario, tender, loving care should be given to all entries. Each entry to your property should ultimately elicit a response from visitors such as, Wow! Look at this house! This gate is remarkable! This walkway is fabulous! These flowers are amazing! It smells so good!
Once inside the home, hopefully another effusive reaction is emitted by the guests because the interior entry way is so extraordinary that it takes their breath away. When guests stand still, mesmerized by their surroundings, taking it all in, the design is an obvious success, and drama has been achieved. Bravo! 
Why save the good stuff for the entrails of the home, which are extremely important, of course, but not seen at the moment of arrival and entry?
Put some effort into how the home looks from the outside and then concentrate on how it looks the moment guests enter through the front door or any of the other entrances. The home?s exterior should be welcoming, charming and inviting as should the front entry hall into the actual house or any other entrance into the home.
GATES
Installing a fence around a property as well as a gate that automatically opens when the homeowner?s vehicle approaches is an excellent place to begin when it comes to designing a dramatic entry to your home. The convenience of an automatic gate opener saves a lot of time and hassle. The fence and gate set off your home from other residences, improving the overall appearance and value of your property and residence. A fence and gate also provide security for the residents. Gates and fences can be very grand and dramatic.
~
Wrought-iron gates are time-honored and classic and increase the value of your property. Picket garden gates, brick or stone walls and natural fences created by bushes and trees are all options. Aluminum fences are also a good choice because aluminum resists corrosion as are steel fences, which are very strong and durable.
FRONT PORCHES
Front porches can be arresting and irresistibly inviting. The guests may not want to venture any further.
Treat the front porch as one would an interior room. Place cushioned and comfortable outdoor chairs and couches on the porch with side tables, for beverages or books. Install a ceiling fan, which makes it tolerable on those torrid summer nights when sitting outside, drinking a cold one. Hang flowers from the porch ceiling or set cascading plants in clay pots on plant stands of varying heights, textures and designs. Adding gingerbread, dentil molding and other decorative detail to the area that frames the porch is a nice touch and adds allure to your home and the entryway. Place area carpets on the porch floor to give it a really homey feel. Paint the front door a rich color and add a seasonal wreath.
Give thought to the type of porch or patio lights needed, keeping in character with the style of your home. Not only is the light wanted and needed but the actual light fixture should and can make a declaration. 
INTERIOR ENTRY
Create a jaw-dropping entryway via the use of color, mirrors and various modes of lighting ? up lighting, cove lighting, recessed lighting and ambient lighting ? area rugs, plants and artwork. Furthermore, provide a convenient place for the visitors to stash their outerwear and umbrellas. 
LANDSCAPING
The type of landscaping that is done should mesh with the style of home and with the personalities and interests of the owners. Create a corridor of walkways out of flagstone or any stone material or even sand pebbles. Stage an area for reading, conversing, resting, swimming, sunning oneself, bird watching or even hiding out. Perhaps a tree house for adults is in order. The entry may lead into a whimsical butterfly garden, a formal English garden, a romantic cottage garden or patio or inside the house. The entryway gives the visitor a clue of what is yet to come. Some of the guests might not want to leave the area because they are so bewitched by their dramatic surroundings. 
Erect a trellis or pergola, an arbor or archway and grow vining plants on these structures. Hang Japanese lanterns and other colorful lights in the trees. Wind chimes are always a welcome addition to an outside venue or entry way. Put up torches and light the way to the home or garden or whatever the guests are intended to go. Use path lights, which are utilitarian and prevent accidents from occurring as well as upping the dramatic effect of the entry way because the light fixtures themselves are stunning.
Popular Savings Offers
Hamboards
Shop Now
Bath & Body Works
Free Catalog
Ithaca Sports
FREE Shipping
Lehman's Catalog
Get Catalog and Special Offer
Snowmobile by Dennis Kirk
Shop Now
Sierra Traditions for Men
Shop Now