Easter basket ideas for toddlers
By Catalogs Editorial Staff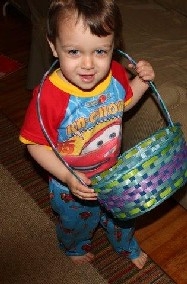 Hatching easter basket ideas for young toddlers is no easy feat
Here comes Peter Cottontail…and that means it's time to start building Easter baskets! The little ones love running out on Easter morning and digging into that brightly-colored basket, filled with surprises. And toddlers seem to love it most of all.
But trying to come up with Easter basket ideas for toddlers can be a challenge. You don't want to give them too much candy or you know you'll pay for it later in the day when they're bouncing off the walls.  And then there are concerns about small toys – toddlers do love to stick things in their mouths!
Don't worry. There are lots of things you can add to a toddler's Easter basket and still know that they (and your house!) are safe.
Before you continue reading about the Easter basket ideas for toddlers there is a special announcement we would like to share with you. Catalogs.com has negotiated special medicare rates for our vibrant community of seniors. If you are over the age of 60, you can head over to our Seniors Health Section which is full of information about medicare. All you need is your zip code and a few minutes of your time to potentially save 100s of dollars on your medicare bills.
Sweets and treats
No matter how much you want to keep things healthy, you're going to have to put at least a few sweets in your little one's Easter basket.  But instead of pouring in handfuls of jelly beans and bags of chocoate eggs, it's a good idea to limit the amount of sugary snacks you add. Try replacing all of those little candies with one or two larger treats. Rich chocolately brownies are safe for little ones to eat, and even just one or two will look huge in the basket.
If you do want to include candies but are concerned about hidden ingredients, allergens or GMO's , why not make some yourself?  Candy making kits and supplies make it easier than ever to create beautiful confections — and you won't have to run all over town trying to find your child's favorite flavors.
Toys and games
Toddlers are at the perfect age for running around and exploring the world around them. So adding toys like age-appropriate magnifiers, bubble blowers, sand castle molds and bouncy balls are great ideas for a toddler's basket.
If your little one likes dolls or plush animals, you might want to add one or two small ones to the basket too. A cuddly Easter bunny received at 2 or 3 might just become a life-long treasure! Large plastic or wooden toy cars and trucks are also winning choices for filling out the basket.
Toys that encourage make-believe play are another good choice. Why not add a couple of colorful puppets, a toddler-safe toy tea set or some simple dress-up gear like funny hats, capes (make sure it attaches with velcro, not strings!), or cowgirl/cowboy boots.
Art supplies
Toddlers love making pretty pictures and showing everyone their creations. So including non-toxic art supplies is one of those Easter bsket ideas for toddlers that's sure to make them grin. Big chunky colored chalk, thick crayons for small hands and big rolls of art paper are great places to start. Non-toxic soft clay and finger paint sets are classic favorites, but be ready to supervise these art projects, and maybe make them outside toys (unless you want new colors on your walls and carpet!)
Music
Let your little ones listen sing and make joyful sounds with musical instruments in their basket. Small drums, shakers, tombourines and kid-friendly keyboards encourage happy sounds. And kid-themed CD's will inspire them to play and sing along.
Keep it simple
It's easy to get carried away when you're filling an Easter basket, but remember these are toddlers. They'll love the bright colors and the experiencing of digging into the basket, so don't go overboard. Do be sure to check all toys for small parts, and try to stick to things made in the U.S., Canada or Europe to protect your little ones from toxic paints.
Popular Savings Offers