Easy fixes for bare walls
By Catalogs Editorial Staff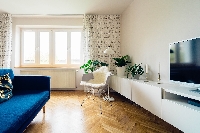 Adding style to your bare walls doesn't have to be expensive
Congratulations on your new home!  Whether it's a house, an apartment or a condo, the move is over. The furniture is in place, and the boxes are, well, kind of unpacked. 
Now it's time to make the space your own. But there are so many empty, blank walls — where to start?  Are there any inexpensive, easy fixes for bare walls?  Yes, yes and another yes!  After way too many moves, I could probably write a book on the topic. But because you want to get something done now, here are some great ideas for dealing with empty walls quickly. 
Just for Renters
Before you continue reading about the Easy fixes for bare walls there is a special announcement we would like to share with you. Catalogs.com has negotiated special medicare rates for our vibrant community of seniors. If you are over the age of 60, you can head over to our Seniors Health Section which is full of information about medicare. All you need is your zip code and a few minutes of your time to potentially save 100s of dollars on your medicare bills.
Renting a home means you have to deal with more rules and limits about what you can put on the wall. Some landlords will let you paint to your heart's content, but most insist that those bland beige, white or grey walls stay just as they are so we'll skip over the painting option for now. But even without painting, there are wonderful options.
Temporary wall decor
Most of us have faced the nightmare called removing wallpaper… or at least, have heard the war stories of those who have. Wallpaper adds a great pop of style and color, but we wouldn't wish removal on anyone. Especially a renter! Thank goodness there are now beautiful options for removable wall art and wall papers. Choose an inspiring quote, an image you love or a colorful design, and instantly that smooth and oh so boring white wall is transformed into something personal. When it's time to move, or when you're ready for a new look, just peel off and go. 
~
Get your photos into view
Let me ask a question: how many pictures do you have on your phone, tablet or computer?  How about in the cloud or on backup drives?  Now might be the perfect time to get those images out the digital realm and into plain sight, on your walls. Prints from digital files are inexpensive, and low cost frames can be found in big box stores, online, or even in thrift stores. 
The moment you see friendly faces, favorite places or special moments hanging on your wall, you'll forget all about how bare those walls used to look. 
Shelving and collections
Hanging a few shelves and decorating them with your favorite decorations, souvenirs, or just a vase of flowers has never been easier. Floating shelves go up quickly without only a few screws, but they make a blank space look pulled together. When it's time to move, just take them down and fill the small screw holes. 
Tapestries or quilts
Soft wall hangings like woven tapestries, pretty quilts or even a too-pretty-for-the-floor rug instantly add color and design to a big empty wall. And as an added bonus, textiles help absorb sound and provide an extra layer of insulation too. 


Rearrange your furniture
Did you know that most people push all of their furniture up against the wall, regardless of how big or how small the room might be?  
Instead of making your rooms look like a furniture showroom, consider arranging what you have in your living room or den into groups for conversation, TV viewing, and gaming. In the dining room, put the table or a buffet at a angle. Do the same in the bedroom, pulling the bed away from a flat wall and trying it out in a corner instead. You may discover that just moving what you have can eliminate the feeling of emptiness on some walls. 
Add lighting
An uplight or a pretty floor lamp can add interest to an otherwise decor-less wall. Plug-in sconces are another option. Like the floating shelves, when it's time to leave all you have to patch are some small screw holes. 
And of course, there's always art!
An arrangement of eclectic items can transform a blank canvas in your apartment or house into a feature wall with just a few brads or even some of those stick-and-peel hangers. Don't limit yourself to just framed art. Big decorative letters, found objects, small mirrors, and wall mounted vases with silk or dried flowers are just a few of the things that can work to help you build a wall look that reflects your taste and style. Check out Pinterest for inspiration if you get stuck. 
If you're really worried about putting multiple holes in a wall, head to your nearest craft store and buy the largest canvas they have. Get creative with $1.00 acrylic craft paints and make a modern art masterpiece. That one large work of art can be just the perfect solution for too much empty white, beige or grey wall. 
As for Homeowners…
Of course, you can use all of the suggestions above. And they might be perfect for your needs. But as the owner, you have even more options.
Paint, the great transformer
A painted feature wall is a cheap, quick and powerful way to transform a room. If you're on a budget, look for a can of the mismixed paint at your local home improvement store. They're typically under $10, and are usually more than enough for one wall. 
Or if you're artistic, maybe try your hand at painting a mural. An overhead projector (do you remember those from school?) can project your design on the wall, making it easy to trace the lines. Then all you have to do it paint. 
Architectural trim
Older homes often feature such beautiful trim that wall art isn't even needed. Look up classic techniques like board and batten, bead-board or classic inset paneling. There are tons of tutorials on YouTube which show you how to construct classic looks without expensive tools or a big budget. 
Don't Rush It
It might be hard to look at that wall for even another day, but take your time in making your choices. It's better to do some research, look around and maybe do some browsing on Pinterest or Instagram before you rush in and paint a wall or buy artwork. Take a few days, think about your options. Before you know it, you'll be ready to make that wall into a real part of your home.
Popular Savings Offers