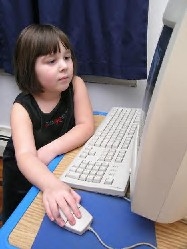 An educational foray for kids is found in many computer games
Boing-boing-boing. No doubt about it?if a room full of baby boomers were challenged to provide the identification, the winning answer would come from the person who jumped up and shouted, ?Boing-boing-boing is the sound made by Pac Man.? Today?s educational kids computer games are a far cry from that vintage delight.As the memory of Pac Man ebbed, a moment of shared nostalgia might waft toward the ceiling. But chances are the moment would be short lived. In many modern homes, it soon would be blasted to smithereens by the audio and video of today?s educational kids computer games?perennially underway on the kids? computer.
The new, educational kids computer games are like electronic vitamins. They boost kids? language skills and knowledge base. There are nutrition games and games for designing wacky machines. Games abound that make it easy to learn a new language. Any child?s favorite subject probably has numerous educational kids computer games to make learning fun.
What are some advantages?
A young person perched on a chair in front of a computer that is kept in a central location in the home?the kitchen or living room?has some advantages. A parent or caregiver easily can supervise the child and ensure the program in use is appropriate for the age of the youngster. Close contact also is inherent when home schooling materials are in use and learning is a family affair.
What are some disadvantages?
A computer that is isolated in a bedroom or elsewhere away from ordinary household traffic may be more often used to access violent content or sexually explicit material. A simple search for an innocuous topic could trigger an influx of related content that is far from child-safe. Access should be monitored at all times when educational kids computer games are in use.
~
Learn math without trying
Sometimes a calm atmosphere helps a child striving to learn something new. It is important for parents to provide a comfortable environment with optimal home lighting and few distractions. Arithmetic basics, for instance, are elusive for many young children. It?s a blessing to find educational kids computer games that help them learn math?without suffering or tantrums.
Timez Attack
Timez Attack challenges the video player to escape from an underground dungeon called, ?Ignorantz.? Various math clues are shared that enable the player to find a way through a series of doors, behind which is some kind of monster demanding answers to previously reviewed math tidbits. The graphics are brilliant and failures can be rectified by revisiting the newly learned skills. It?s one of the educational computer kids games that take the pain out of learning math.
Learn in comfort a new language
According to a column written for The Washington Post some 5.5 million students ranging in age from five to 21 speak a language other than English. Thousands speak Spanish. Those students are learning English. But many other English-speaking students are finding it important to learn Spanish as preparation for living and working in a multi-cultural world. Educational kids computer games are one way of achieving the goal.
Hooked on Spanish
Hooked on Spanish?beginners? version?offers about a dozen scenarios in which various characters interact with each other and with the user. Flashcards noting vocabulary words, a workbook and a trio of paperback books also are included, along with a guide for parents who wish to interact with the child doing the lessons. A compact disc is an adjunctive learning aid, designed to offer the youngster mastery of accent and pronunciation of words. These kinds of educational kids computer games offer a low-stress way to learn a new language.
Build something without debris
How does a young person learn how to build things? There is a need for tools, wood, metal and supervision. A garage or work room might help. Numerous trips to the building supply store might be required. The materials can be costly and not good for much of anything else, once an inexperienced youngster gets through with them. Luckily, there are some educational kids computer games that enable experimentation without debris.
Crazy Machines, The Wacky Contraptions Game
Crazy Machines, The Wacky Contraptions Game is for children ages eight and up. It offers a treasure trove of building materials in three-dimensional splendor. Pipes, metal tubes, fittings and wire are in the toolbox?along with many other implements. The object is to build a crazy contraption and without tears learn solid building principles, laws of physics and how things work. Some kids embrace the lessons presented by educational kids computer games without so much as a whimper. Once they try this game, they still may whimper?when it?s time to shut it down.